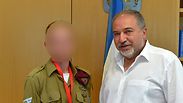 DM Lieberman meets with Staff Sergeant A.
Photo: Ariel Hermoni/Defense Ministry
Staff Sergeant A., the combat soldier who shot and nutralized the terrorist who murdered Yosef, Elad and Chaya Salomon on Friday in a terror attack in the settlement of Halamish, met with Defense Minister Avigdor Lieberman in his office on Thursday and told him additional details of the attack. Among other things, he explained that he did not continue to fire so as not to harm Yosef Salomon, who was lying on the floor next to the terrorist.

"We heard terrible shouting from inside the house," said A. "When my father and I came out, we saw through the window that something was happening, that there was some kind of incident, so I quickly ran into the house, took my rifle out of the safe, and through the window, I focused my sight in his direction and saw everything that had happened there, that Yossi was on the floor, and then I fired one bullet at him."

A.'s commander added to his telling of the incident "He is modest, he jumped on the fence, got on the air conditioner, stood on it and fired with difficulty." A. added: "I recognized that he had fallen and I came into the house. At this point my father arrived. I told him that the terrorist had fallen; we entered the house, searched it and went up to the second floor. Then we saw Tova, who told us that there had been one terrorist, and we started administering people first aid."

"There are two important things here that he does not say because he is a modest guy," said his commander. "He fired one bullet and did not continue (to fire more—ed) so as not to harm Yossi, because the terrorist was lying next to him. He did not make sure he was neutralized because his father had come in, pointed a gun at him and removed the knife from his hand, (which allowed A.) to continue and scan (the house). He did the right thing."

"You did an excellent job, as expected of an IDF soldier," said Lieberman. "You acted with courage and determination, and you have prevented a much more serious disaster."