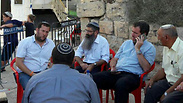 Yossi Dagan at the Machpelah House
Photo: Harhivi
Samaria Council head moves into Machpelah House
Yossi Dagan and his family join the 120 settlers barricaded in the Hebron structure in protest of lagging purchasing process; 'The house was paid for in full and completely legally while we're being strung along with quasi-legal excuses. It's all just politics,' he says.
Samaria Council Yossi Dagan and his family moved into the Machpelah House in Hebron on Tuesday, a little over a week after 120 settlers invaded the building in protest of delays in the purchasing process of the building and objections by the High Court of Justice and the Civil Administration to them moving in.

"I call upon the prime minister to afford the people of Hebron their full rights to purchase and reside in their homes, just like every other citizen," he said.

"We're not barricading," Dagan stressed. "Everything is pleasant, calm and peaceful. According to all legal instances, this house was purchased at full-price and completely legally. For five and a half years, the dear people who have put down their hard earned money to buy this house have been strung along with quasi-legal excuses, when in reality it's just about politics."

"I came here both out of solidarity with them as an Israeli citizen, who is moved by this injustice, and as an elected official who feels that the persecution and blatant discrimination faced by the Jews in Hebron—who are citizens of this country and have lived here for over half a century—is also aimed at all of the country's citizens living in Samaria," Dagan added. "There's a grave injustice in place against more than half a million of the country's citizens living in Judea and Samaria whose rights are trampled time and time again.

"I hope the government will finally deign to put an end to this ordeal and call upon the prime minister to give the people of Hebron their rights, the same rights afforded to the people of the Gaza border communities, Petah Tikva, Tel Aviv and Jerusalem."

The IDF has declared the Hebron Machpelah House as a closed military zone after the settlers invaded it and barricaded themselves there last week. The decision was intended to prevent further people from entering the house and allow for its evacuation when the government decides to do so.

Settlers have been protesting the lag in examining the structure's purchasing documents. The invasion and barricading came two weeks after a report saying the Civil Administration has determined that the documents are not forged.

Large IDF and Border Police forces arrived to the area and effectively isolated last week, and several detectives came in to the complex to evaluate the house's different entry points.