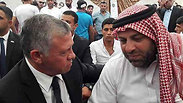 King Abdullah meeting the father of the man killed in the incident
Jordanian reporters have admitted on local social media the official diplomatic identity card of the embassy guard involved in last week's shooting, Ziv Moyal, came from the highest echelons of Jordanian government.

"Jordan's security forces knew immediately the identity of the guard involved, but since Jordan respects international diplomatic codes of conduct it waited until the entire Israeli delegation, including the guard, was safely out of the kingdom before exposing his identity," said a high ranking Jordanian official. "We want Ziv Moyal to be compromised everywhere.

"The leak had dual purposes. Firstly, to break Israeli censorship on the affair and its attempt to harm the credibility of Jordanian reports. Secondly, to make sure Moyal never works as a guard in any embassy anywhere in the world. With his identity made public, he'll now be a security risk."

Israel was angered by Moyal's personal details being made public, after being blindsided by the publication. Government officials believe this will risk both Moyal's future career in embassy security and his life.

According to a top Israeli official, this is a hostile measure flying against what was agreed upon between the two countries to resolve this crisis quietly and convivially while getting to the truth of what happened.

Israeli officials say leaking Moyal's details attests to an internal squabble within the royal palace in Amman. The internal rift is being waged between those who believed this crisis should be managed quietly bilaterally with Israel and the position taken by King Abdullah himself, who was furious with the reception given to the security guard by Prime Minister Benjamin Netanyahu and was exceedingly wary of the response by the Jordanian public.

Security officials contacted the State Attorney's Office to evaluate the legal ramifications of exposing Moyal's details and whether that would mean he'd be limited in traveling abroad and would be open to arrests there. The officials also asked to examine who would need to provide legal protection for him should he go abroad and find himself embroiled in something. Officially, Israel has remained completely silent following the release of Moyal's details, saying its relationship with Jordan is more important.

Meanwhile, Moyal has been instructed by his superiors to lay low, his Facebook profile was taken down and his parents were instructed to not talk to the media.

He has yet to take on the services of a lawyer, but may be forced to do so now that his details have come to light. Nevertheless, if he is proven to be in the right in shooting a stabber who tried to carry out a terror attack, it seems Israel will have no choice but to take responsibility and provide him with legal protection against prosecution abroad. It will also have to supply him with employment, now that he's been called back to the country.

Earlier this week, Jordanian daily Al-Rad boasted its success in "breaking through" Israeli censors and releasing the full name and photo of Israeli security guard Ziv Moyal.

The paper went on to brag their exposé forced Moyal's family to leave their home in a southern region moshav and hide with relatives, out of fear of Palestinians avenging the death of Mohammad Jawawdah, the young man killed in the incident.

Jawawdah's family is originally Palestinian, from one of the villages near Hebron.

Zekharia Jawawdah, the young man's father, said in an interview Monday he categorically denies Moyal's claims that he was attacked and was outraged by the reception the guard was given in Israel: "You welcomed a criminal with hugs for political reasons. For your own good, you should punish Netanyahu before the criminal himself. He welcomed a criminal with hugs, which makes him a criminal himself. It's a disgrace. You're dragging your country's good name through the mud. My demand is a legal one – hold my son's killer to a trial under the rules and norms of international law."