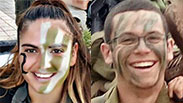 Hadas Malka, left, and Elhai Taharlev.
IDF demolishes homes of terrorists who killed Border Policewoman, soldier
Homes of Bra'a Saleh and Usama Atta, who killed 1st. Sgt. Hadas Malka in Jerusalem attack, were demolished, while home of Adel Ankush, who also took part in the attack, was sealed off; Silwad home of Malik Hamed, who killed IDF soldier Sgt. Elhai Taharlev in a vehicular attack at the Ofra Junction, was also demolished.
Israeli forces demolished the homes of the terrorists who killed Border Policewoman Hadas Malka and Sgt. Elhai Taharlev and sealed the home of another terrorist overnight Wednesday.

On June 16, 2017, Bra'a Saleh, Usama Atta and Adel Ankush, armed with knives and firearms, mounted an attack in two different scenes near Jerusalem's Old City. Border Policewoman Hadas Malka, 23, was fatally wounded when she fought them off.

Atta and Saleh's families petitioned the High Court of Justice in an effort to prevent the demolition, but while the court decided against demolishing the ground floor of the three homes, it approved the demolition of the second flood of Atta and Saleh's homes and sealing off the second floor of Ankush's home in the village of Deir Abu Mash'al.

Demolition of terrorists' homes in Deir Abu Mash'al

"In these difficult and challenging days of unrest, security forces stand guard and defend the lives of the state's citizens and maintain public order with total devotion. The political echelons are also required to show level-headed and decisive policy," Judge Yitzchak Amit wrote in his ruling a week ago. "Unfortunately, some terror attacks have not been thwarted and the outcome is bitter and painful, such as the attack in which Hadas Malka was murdered."

He stressed that Regulation 119—which allows ordering the demolition of a home where suspected terror activity occurred or a home of terrorists, their accomplices or supporters—is enacted as a measure of deterrence, not punishment.

The IDF, with the help of the Border Police and the Civil Administration, also demolished the Silwad home of Malik Hamed, who killed IDF soldier Sgt. Elhai Taharlev in a vehicular attack at the Ofra Junction in April.

In his interrogation, Hamad admitted his desire was to murder as many soldiers as possible: "To kill Jews and die a martyr's death."

Hamad's family also petitioned the High Court against the demolition, but the court rejected their appeal out of hand.

"I found no cause for the court to intervene in the decision of the military commander, who believes the demolition of the structure is necessary to maintain the deterrence that would prevent terrorism," Yitzchak determined.