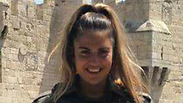 Israel's High Court of Justice gave the green light Thursday afternoon to demolish the homes of the terrorists responsible for separate attacks which ended in the murder of 23-year-old MSG. Hadas Malka and 20-year-old Sgt. Elhai Taharlev who was killed in a vehicular terrorist attack near Ofra.

Malka was murdered in June when three terrorists armed with semi-automatic weapons and knives struck in two different parts of Jerusalem's Old City, leaving her critically wounded before ultimately sucumming to her wounds.

According to the court's order, the IDF will entirely level the home belonging to terrorist from the town of Silwad who in April murdered Taharlev who served in the IDF's Golani Brigade.

Speaking at Malka's funeral, Police Commissioner Roni Alsheikh praised her courage and determination to serve the country.

"You fought for the border police out of a deep sense of mission and desire to contribute. Your friends have said that you are full of values and loved your country and its people," Alsheikh said.

"They say that in addition to being a professional and a patriot you were a great sister to all the other fighters, always worrying about everyone's well being, always smiling, always willing to lend a helping hand."