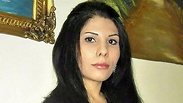 Neda Amin, the Iranian-born journalist who fled Iran in 2014 and was expelled from Turkey last month, arrived in Israel Thursday after being granted a special tourist visa by Interior Minister Aryeh Deri.

After she failed to show up for her flight on Monday, fears arose she might have been arrested by Turkish authorities who planned to extradite her to Iran. But after Jerusalem discreetly sought answers from Ankara, Turkish authorities clarified she will be allowed to leave, following which the Israeli consulate in Istanbul purchased a flight ticket for her.

Amin, 32, fled Iran in 2014 after her book Zenjir ("The Chain") was banned. She lived in Turkey for three years as a political refugee, during which time she began contributing to the Times of Israel's Farsi-language website. But her work for the Jerusalem-based website has raised eyebrows in both Turkey and Iran.

According to the UN Watch NGO, Turkey's National Intelligence Organization (MIT) has followed Amin "for a long time," with at least five or six phone calls and an interrogation me at the foreigners' branch directorate. Arabic-language media reported Monday that Amin has been indicted on several counts of treason stemming from her work for Israeli media, a capital crime in Iran.

"They (Turkish authorities) kept asking me why I wrote for an Israeli newspaper and with whom I have connections in Israel. Although I repeatedly said I am only a journalist, they accused me of being a spy for Israel," Amin told UN Watch.

On July 5 Ankara informed Amin she would no longer be afforded refugee status and given 30 days to leave the country, leading her to publish a plea for asylum last week to countries in the Mediterranean region.

They gave her 30 days to leave the country, prompting fears that she would be deported back to Iran, where she would likely face a lengthy prison sentence, torture or even the death penalty both for criticizing the Islamic Republic and for writing for an Israeli publication.

Interior Minister Deri greeted Amin with a "Welcome to Israel" tweet.

Article reprinted with permission from TPS .

Itamar Eichner and Itay Blumenthal contributed to this report.