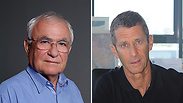 Grenot (L) and Steinmetz
Photos: Shirley Gabbai-Iluz, Ofer Chen
Billionaire Steinmetz, Bezeq Chairman Granot among those arrested on suspicion of bribery and money laundering
An international investigation involving the FBI and Swiss police leads to arrests of 5 people involved in the affair, among them business magnate Beny Steinmetz and Bezeq telecommunications company Chairman David Granot.
Israel Police arrested billionaire Beny Steinmetz, Bezeq telecommunications company Chairman David Granot and three other suspects on Monday, on suspicions of bribery, money laundering, forging and falsifying corporate documents, fraud, breach of trust and disruption of court proceedings. The FBI and Swiss police are also involved in the investigation.
Following Granot's arrest, Bezeq reported to the Tel Aviv Stock Exchange (TASE) and the Israel Securities Authority on Monday.
Bezeq's statement said that "from what the company (ie Bezeq—ed) has been informed, the investigation is not related to the company, nor is it related to the subjects under investigation by the Securities Authority regarding, which the company reported on on June 20th, 2017 and in subsequent reports."
Bezeq's statement emphasized that the investigation concerning Granot is separate and unrelated to a previous investigation from June 20th known as "Case 4,000." This investigation, which is still ongoing, is looking into a possible conflict of interests between Prime Minister Benjamin Netanyahu's tenure as communications minister, and his close ties with major Bezeq shaareholder, Shaul Elovitch.
The police reported it is investigating several suspects, who have allegedly worked with the main suspect in order to produce and present fictitious contracts and transactions, including real estate deals in a foreign country, for the purpose of money transfers and money laundering.
Steinmetz, a Geneva-based diamond-mining magnate with an estimated worth of just over $1 billion according to Forbes, was arrested by Israeli authorities in December over allegations of bribing officials in the African country of Guinea to promote business interests there. He spent two weeks under house arrest at that time.
According to the suspicions, each of the parties involved is suspected of several different counts. Searches were conducted in their homes and in offices on Monday morning.
The current affair is seemingly relted to a previous affair in which Steinmetz was also involved. In the course of the investigation of the previous case, the police received information about the method in which the five suspects reported their fictitious transactions for the purpose of carrying out illegal money transfers.