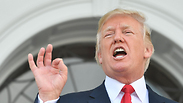 President Trump
Photo: AFP
US President Trump's comments that "both sides are to blame" for the violent clashes in Virginia last weekend continues to resonate throughout the world.

Various Jewish groups throughout the United States strongly condemned Trump's "anti-American" behavior and they were not alone. Even Republican officials have joined the chorus, declaring that the president needs to come down against one party—the extreme right.

Jonathan Greenblatt, National Director and CEO of the Anti-Defamation League, said in a series of Tweets that he was "stunned" by President Trump's statements. Greenblatt claimed that Trump's comments are "un-American" and that there are no "two sides to this story."

Greenblatt Tweeted, "There are no 2 sides to this story. There are no "fine people" in the ranks of Nazis. Legal permits do not bestow moral permission.

"When our President is defending the "side" that includes #AltRight #KKK #NeoNazis and promotes hate, something is profoundly, deeply wrong."

In an interview with The Atlantic, Greenblatt said, "This is an agenda about celebrating the enslavement of Africans and their descendants, and celebrating those that then fought to preserve that terrible machine of white supremacy and human enslavement. And yet, somehow, they're all wearing shirts that talk about Adolf Hitler."

Liberal, nonprofit advocacy group J Street also issued a harsh condemnation of Trump's press conference, saying, "President Trump today made unequivocally clear that he lacks the basic decency and moral understanding that should be required of any public official, let alone the President of the United States. There are simply no excuses for his comments and his conduct in this matter."
'As a Jew and an American—he is not my president'
In the Democratic Party, many people were quick to condemn the president's remarks, but the comments also riled up the Republican Party.

Senator Marco Rubio of Florida stated that Trump needs to describe the events "for what they are, a terror attack by white supremacists."

Speaker of the House Paul Ryan also lashed out, Tweeting, "The views fueling the spectacle in Charlottesville are repugnant. Let it only serve to unite Americans against this kind of vile bigotry."

Sen. John McCain issued a statement, saying, "White supremacists and neo-Nazis are, by definition, opposed to American patriotism and the ideals that define us as a people and make our nation special.

"As we mourn the tragedy that has occurred in Charlottesville, American patriots of all colors and creeds must come together to defy those who raise the flag of hatred and bigotry."

Democratic Senator Brian Schatz of Hawaii took a more vocal tone in a series of Tweets, saying, "As a Jew, as an American, as a human, words cannot express my disgust and disappointment. This is not my President."

In addition to American political figures, many international leaders joined the chorus of condemnation.

British Prime Minister Theresa May said, "I see no equivalence between those who propound fascist views and those who oppose them. I think it is important for all those in positions of responsibility to condemn far-right views wherever we hear them."

German chancellor Angela Merkel's spokesman, Steffen Seibert, said on Monday the scene at the Unite the Right march was "absolutely repulsive", with "outrageous racism, anti-Semitism and hate in its most despicable form" on display.