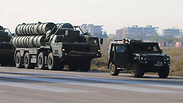 Russian S-400 missiles deployed on Syrian soil
Photo: AFP / RUSSIAN DEFENCE MINISTRY
Report: Russia stations S-400 batteries near Iranian arms factory in Syria
New Russian base built near facility allegedly manufacturing guided missiles for Hezbollah west of Hama, with advanced defense systems reportedly in place to protect it; Kremlin spokesman rejects reports Netanyahu and Putin did not agree on Iran's role in Syrian conflict.
Russia has reportedly stationed its advanced S-400 anti-missile defense system near an Iranian arms factory in Syria, which allegedly manufactures long-range guided missiles for Hezbollah to use against Israel.

Hezbollah, which has already accumulated over 100,000 rockets, is now seeking to target specific sensitive sites in Israel. To that end, it has been trying to obtain long-range guided missiles by smuggling them from Iran through Syria.

However, according to foreign reports, Israel has been bombing these weapons convoys, essentially foiling Hezbollah's smuggling efforts and leading the terror group to the conclusion its only option is to move the missile production closer to home.

On Monday, Prime Minister Benjamin Netanyahu told UN Secretary-General António Guterres that the Iranians are building factories to that end in both Syria and Lebanon.

In his own meeting with Guterres, the head of the IDF's Military Intelligence Directorate, Maj. Gen. Herzi Halevi, told the UN chief the Iranian efforts to manufacture accurate weapons for Hezbollah on Lebanese soil and using the Syrian military industries was a serious development that Israel will not remain indifferent to.

Israeli satellite images, which were examined by intelligence researcher Ronen Solomon from the Intellitimes blog, show a facility not far from the Syrian coastal city of Tartus, where it is suspected the Syrian regime is producing long-range ballistic missiles under Iranian auspices.

The satellite images allegedly show a Russian base built over the past year west of Hama, near Tartus, where Moscow has stationed S-400 batteries, according to opposition sources.

According to opposition reports, the base is located only 15 kilometers (about 9.5 miles) from the facility seen in the satellite images.

The state-of-the-art S-400 system is supposed to provide aerial defense that would make it difficult to attack the facility. In addition to the S-400 batteries, some reports indicate the base also houses Russian surface-to-surface 9K720 Iskander missiles and anti-ship P-800 Oniks (Yakhont) cruise missiles.
Kremlin rejects Pravda report
Kremlin Spokesman Dmitry Peskov on Wednesday rejected a report on Pravda, which is considered the Kremlin's propaganda website, that claimed Prime Minister Benjamin Netanyahu and Russian President Vladimir Putin did not reach an agreement on Iran's role in the Syrian crisis in their meeting earlier this week, with the Russian president reportedly backing Iran.
"It would be wrong to assess the meeting that way," Peskov told reporters. "The nature of the conversation was different. The talks were a continuation of the trust-based dialogue between Russia and Israel. The talks were particularly meaningful."
Peskov went on to say Russia and Israel have been "cooperating in the most sensitive fields," including cooperation between the two countries' military leaderships and special services.
"No one holds emotional conversations here. Interaction continues, the frequency of high-level contacts is the best proof for that. It was a trust-based exchange of views on the situation in the region, the possible ways to ensure security in the border areas and so on," he explained.
Yair Navot contributed to this report.