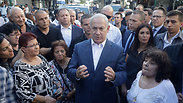 Netanyahu in south Tel Aviv
Photo: Shaul Golan
PM pledges to 'return south Tel Aviv to Israel' amid migration row
Three days after the High Court restricts detention of illegal migrants to 60 days, Netanyahu addresses crowds in south Tel Aviv, promising to clamp down on bosses offering illegal employment, and advancing legislation to circumvent court's decision; 'It is Israel's right to deport them,' says PM.
Prime Minister Benjamin Netanyahu told residents of south Tel Aviv that he was facing a "mission to return" the area "back to Israel" Thursday evening, three days after the High Court of Justice ruled that the State of Israel cannot detain illegal migrants for more than 60 days.

Paying a rare visit to south Tel Aviv—the area which has been seriously affected by the wave of illegal migration in recent years that swept through Israel's once-porous southern border—Netanyahu inaugurated a new police station and received a briefing from the police, before addressing the matter.

"I came to hear from the residents and what I am hearing is pain and distress," the prime minister told a crowd in the Neve Sha'anan neighborhood, before proposing a plan to contain the phenomenon of illegal migration and mitigate its impact.

"We have a very clear policy. We are dealing with the illegal infiltrators and it is Israel's right to deport them," he said in defiance of the Supreme Court ruling, which stated that illegal migrants could not be deported against their will.

Joined by Public Security Minister Gilad Erdan and Minister of Culture and Sport, Netanyahu also met with residents embittered by what they say has given rise to a fundamental and conspicuous transformation of the area's ethnic composition.

He added that on Sunday the government would be receiving a comprehensive overview on the matter and that a ministerial committee under his leadership would be established to tackle the problem directly.

The committee, he said, would consist of members of south Tel Aviv and various officials and would be tasked with monitoring all activities being implemented on the matter each month.

Moreover, he promised to clamp down on those abetting the migrant phenomenon by offering them illegal employment.

"Together with the public security minister and the minister of culture and sport, we will enforce (the law), in a far stronger fashion against those employing illegal infiltrators," Netanyahu vowed.

Responding to calls that the state had to resist the High Court of Justice, Netanyahu said he respected its verdicts even when he did not agree with them, but insisted legislative measures could be adopted to circumvent their implementation on the sensitive issue. "We either have to change the law or change agreements which I worked on," he continued.

Residents who met with the prime minister said later that he was extremely receptive to their stated grievances and that he gave them ample time to voice their concerns and problems and elaborate on what was required to resolve them.

According to Sheffi Paz, one of the neighborhood's inhabitants who discussed the issue with the prime minister, Netanyahu accepted all of their demands. He also added that his visit to the area was the fruit of efforts undertaken by the residents.

But despite Paz's optimism, others were less complimentary of the prime minister, with dozens staging a demonstration outside the blocked off roads and accusing the government of sowing "divisions" among weaker segments of the population.