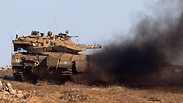 IDF drill in Northern Israel
Photo: EPA
Only one of the eight members of Israel's Security Cabinet plans to attend an IDF briefing about the large-scale training exercise being held in the north.

The 11-day Or Dagan exercise, which began last week, is one of the most important IDF drills in recent years and the largest the Northern Command has conducted in 20 years. It simulates a possible military conflict against Hezbollah.

A special briefing was scheduled Wednesday for the Security Cabinet, which is set to include sensitive and important reviews done by IDF Chief of Staff Gadi Eisenkot, GOC Northern Command Yoel Strik, Northern Corps commander Tamir Heiman and the commanders of the divisions taking part in the drill.

Despite this, only Education Minister Naftali Bennett has confirmed his arrival to the briefing.

Senior IDF and defense officials expressed shock at the apparent lack of interest from the Cabinet.

"This demonstrates lack of seriousness and lack of responsibility by the members of Cabinet, particularly considering they are supposed to be briefed on one of the central threats to Israel," one official said.

Two members of Cabinet have good reasons to miss the briefing: Housing and Construction Minister Yoav Galant, who already came to watch the drill, is currently abroad, as is Finance Minister Moshe Kahlon. The rest have neither come to watch the drill nor confirmed their attendance for the briefing.

צילום: אביהו שפירא

Defense Minister Avigdor Lieberman watched the drill on Tuesday and visited the different units taking part.

"The only thing that will prevent the next war is the might of the IDF and its power of deterrence," Lieberman said. "This drill is a significant stage in the IDF's preparations for a conflict in the north, if we are pushed to one, and I am glad to see the preparedness, determination and professionalism.

"I have no doubt both in Israel and in the entire region all can see and understand the abilities and power of the IDF. This drill is also a reminder to anyone who plots to harm the security of Israeli citizens that the next conflict, if it breaks out, will end with a clear and decisive victory for the IDF and the State of Israel."