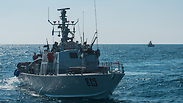 Northern Command exercise includes naval forces as well
Photo: IDF Spokesman's Office
Northern Command goes on offense in wide-scale exercise
During the 11 days of the drill, tens of thousands of soldiers from the Ground Forces, the Air Force and the Navy simulate an infiltration of hundreds of Hezbollah fighters into Israel; 'Hezbollah has become semi-military, and that is its weak point,' says a senior officer.
The Northern Command began the next stage of its wide-scale training exercise in the Western and Lower Galilee on Monday, conducting offensive maneuvers in simulation of an all-out war against the Lebanese terror organization Hezbollah.

The drill, set to last 11 days, includes the Air Force's new F-35 fighter jets and tens of thousands of soldiers.

The troops are drilling a scenario in which hundreds of Hezbollah fighters are able to infiltrate several locations in Israel under the cover of Borkan missile fire (heavy mortar bombs that can carry 100-200km warheads).

צילום: אביהו שפירא

"We're not playing in measure-for-measure with Hezbollah, and our response to the violation of our sovereignty and harm to our citizens will be decisive, significant and go beyond the borders, using a great deal of subterfuge," a senior Northern Command officer told reporters.

The officer said the more Hezbollah increases its power, develops its capabilities and gains operational experience fighting in the Syrian civil war, the more it exposes its weak points.

"Hezbollah has turned from a terror organization to a guerilla organization and now to a semi-army with increasing military elements—meaning an organization with structure and hierarchy," he said.

"We will know how to attack it from the land, air and sea all at the same time. The ground achievement we would gain would allow the political ranks to secure a deal. We would want to shorten the conflict as much as possible, and to that end we would operate fast and with subterfuge," the senior officer continued.

"There would be no way Hezbollah could conquer an area of land in Israel, but it would claim it did," he added. "The defense line will never be broken."

The exercise, the senior officer noted, focuses on Hezbollah and not the Lebanese army.

During the exercise, the Northern Command's reservists division was called up. In a military conflict, the reservists would be sent to a sensitive area along the border and could advance as deep as 30 kilometers into Lebanon.

A senior officer in the division stressed, "We're not going to chase up every last rocket, and Nahariya can still expect to get rocket fire even on the last day of the war. Hezbollah's shortcoming is that it's an army, even if it doesn't have planes and tanks."