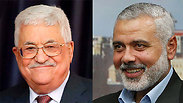 Abbas and Haniyeh
Photo: Reuters, AFP
Hamas invites Abbas to resume control of Gaza
Hamas disbands its shadow government in Gaza, urging Palestinian Authority President Mahmoud Abbas to end the sanctions on the Strip and inviting him to resume his control over it; meanwhile, majority of Palestinians believe Abbas should resign and express doubt on US efforts in the region.
Hamas on Tuesday invited Palestinian President Mahmoud Abbas to send officials to Gaza to resume control of the coastal enclave the Islamic militant group seized a decade ago.

Hamas leader Ismail Haniyeh said his group is serious about returning power to the Western-backed Palestinian leader and called on him to respond with "practical steps."

Hamas has said it will dismantle a contentious committee that has governed Gaza in recent months—answering a key Abbas demand. It has also said it is ready to hand over all government functions to Abbas and to hold elections in Gaza and the West Bank.

"We extend a clear and frank invitation without obstacles for the consensus government to work in Gaza," Haniyeh said after returning from Cairo, where he and other Hamas leaders held rare talks with Egyptian officials.

Upon his return, Haniyeh said he spoke with Abbas by phone, telling him: "Our people expect you to suspend and cancel the measures and begin a dialogue."

Meanwhile, a poll indicates that 67 percent of Palestinians demand the resignation of President Mahmoud Abbas, up 5 points from June, and that three-quarters believe the Trump administration isn't serious about an Israel-Palestinian peace deal.

The survey among 1,270 Palestinians was published Tuesday, a day ahead of a Trump-Abbas meeting on the sidelines of the UN General Assembly. The Palestinian Center for Policy and Survey Research poll had an error margin of 3 percentage points.

President Donald Trump said this week that his administration is "working very hard" toward a deal, but hasn't publicly supported establishing a Palestinian state alongside Israel or offered another path forward.

Tuesday's poll says 52 percent of Palestinians still support a two-state solution, but 57 percent say it's no longer feasible because of Israeli settlement expansion.

Hamas is in financial and political distress after years of an Israeli-Egyptian blockade as well as recent economic pressure from Abbas.

The militant group won legislative elections in 2006 and the following year seized control of the Gaza Strip from Abbas' forces, leaving the Palestinian president in charge of autonomous enclaves in the West Bank.

Several past attempts at ending the rift have failed, and thorny issues remain, including security arrangements in Gaza. Hamas has thousands of armed fighters and a sizeable arsenal of rockets and mortar shells. It has always resisted calls to disarm or place its men under Abbas' control.

The two Palestinian factions are also divided over Israel. Abbas has recognized Israel and renounced violence, while Hamas seeks Israel's destruction.

Abbas cautiously welcomed Hamas' intentions on Sunday as he headed to New York for the UN General Assembly.

Haniyeh praised the rapprochement between Hamas and Egypt, which cut ties to the militant group and strengthened the Gaza blockade after the military overthrew an elected Islamist president, who had supported Hamas, in 2013.