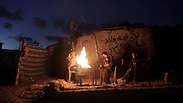 Gaza without electricity
Photo: AP
Hamas restores Gaza power to pre-crisis level
At the height of the electricity crisis in Gaza, its residents were forced to settle for only two hours of electricity per day; now, power supply returns to the levels it was at before the crisis, as Hamas forced to assume civil responsibility for the strip's residents.
For the first time since the outbreak of the electricity crisis in the Gaza Strip last April, Hamas has been able to restore the power supply to pre-crisis levels, with every house in the strip receiving about six hours of electricity a day.

Gaza's power plant had shut down in April after Hamas could no longer afford to buy heavily taxed fuel from the Palestinian Authority in Ramallah.

This left the territory with electricity provided by Israel, but paid for by the PA. The electricity from Israel covered about one-third of Gaza's needs, meaning Gazans were getting power for about four hours a day.




In June, Israel reduced the electricity flow by 40 percent, at Palestinian President Mahmoud Abbas's request, cutting the time Gazans were getting power for to about two to three hours a day, but refused to stop power to the strip entirely out of fear of exacerbating the humanitarian crisis.

The Israeli government's decision to reduce the electricity to Gaza was criticized both abroad and inside Israel due to its grave consequences for the civilian population in Gaza.

It also changed the Hamas leadership's traditional perception of the PA as the one supplying the energy to the Gaza Strip, and Hamas began purchasing diesel from Egypt to refuel its power plant.

However, the decision pushed Hamas into a corner and forced it to assume civil responsibility for an infrastructure issue that cost it a lot of money.

To date, more than 30 million liters of diesel fuel have been brought into Gaza via tanker convoys at a price of three shekels per liter. In other words, Hamas has paid close to NIS 100 million (about $285 million) to refuel the power plant.

At the same time, the warming relations between Hamas and Cairo and the security measures taken by Hamas on the border with Sinai led Egypt to repair the electricity lines from its territory at Hamas's request.

For the moment, Hamas is downplaying this achievement, most likely so that the pressure on the PA to stop the sanctions will continue.