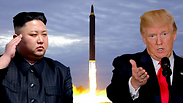 Kim Jong Un and Donald Trump
Photos: Reuters, AFP
It seems like the United States and North Korea are on the brink of military confrontation. It is possible to go so far as to say that Trump's speech at the UN was a deliberate and planned provocation by Washington aimed at bringing Pyongyang into a certain collision course with the US.

Why? Because those who are familiar with the strategies and policies of the regime in North Korea know how Kim Jong Un responds in order not to lose his prestige and near divine status in his country. As far as he is concerned, he must escalate his reactions, even to the point of moves that would mean war.

The Americans know that, and instead of trying to calm the North Korean ruler, Trump keeps upping the stakes by intentionally using insulting phrases such as "rocket man" when referring to the North Korean ruler to tempt him to escalate his reactions.

The goal in Trump's deliberate provocations is not to criticize Kim Jong Un, but to force China to act.

The only person other than Kim Jong Un who can restrain North Korea is China's leader, Xi Jinping. Without China, there is no North Korean economy and there is no North Korean army, so only China can act to end the crisis without war.

Trump walks fine line to force the Chinese to get off the fence and intervene, and it seems to be working. China announced this morning it is imposing restrictions on oil exports to North Korea, but that is not enough—just recently, North Korea threatened to detonate a hydrogen bomb in the Pacific Ocean. The United States knows North Korea lacks the capability to carry out such a move, but fears another move that could lead to war.

However, Trump is determined to continue his game of chicken with Kim Jong Un. It is very possible the Chinese would join the effort to calm things down, but it is also possible it would lead to military escalation.

Recent North Korean missile test, which launched a rocket over Japan (Video: Reuters) (צילום: רויטרס)

The situation on the Korean peninsula is very sensitive and volatile, and one can only hope the Americans know what they are doing before things get out of hand.

At the moment it seems the Americans are succeeding. Tomorrow, though, things could be drastically different.