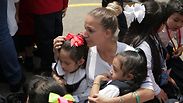 Heroes for Life volunteer and children outside the school
Photo: Heroes for Life
Twenty five discharged IDF soldiers volunteering in a Mexico City school saved the lives of hundreds of it students when a devastating earthquake hit the country Tuesday.

While local teachers were at a loss for what to do, the Israeli volunteers took over and moved children out of the school and into the open.

The Israelis—who have been volunteering at the school on behalf of the Heroes for Life NGO—were teaching the children English, math and more.

When the quake hit, the newly-discharged soldiers—some of whom served in elite units—never lost their cool and evacuated all 460 of the school's students out of the building.

Alon Nissim, 27, from Jerusalem, recounted the events. "The quake caught us in the middle of an English lesson. All of a sudden, I and another member of our group standing next to me felt the entire building move like a house of cards. The children were really spooked and tried going down an iron staircase, which was overloaded with people, and then a commotion started. The stairs led to a basketball court, where we decided to round up the children," he said.

"We noticed a cement staircase that was still free and took off running like madmen towards it while directing every kid we came across along the way to follow. As soon as we hit terra firma we started routing children to safe spots and calming them down, just like we would a platoon in the army. The children started crying and panicking. I ran to our room and got some water bottles and candy and started handing them out, while other members of my group started talking to the kids and calming them down," Nissim added.

"I was on autopilot without thinking how much danger I was in. My only thought was for the kids and their families," Nissim continued. "I'm filled with satisfaction and am prouder than ever of being Israeli. Everyone here is singing our praises, Israel's praises. Everyone knows Israel is the first to come help when disaster strikes, even before the locals do, but this is probably a new record."

Shir Volotzki, 23, from Haifa, added, "Within seconds I realized I was expected to start doing something without regard to my own life, but only those of the sweet children. The situation was incomprehensible. We took the kids out of the classrooms and I saw their panic at this unexpected natural disaster. I started moving from one to another and try to calm them down. A few minutes after the quake, parents started coming into the school to pick their kids up and we enveloped the kids who were mortified at the fact their parents were not there yet with love and support."

Hodaya Lakaw, 24, from Ashkelon, said, "The alarm hit and we thought it was a drill, because just two hours earlier the school held an actual drill. A few seconds later, the floor started shaking, and we just took off for the stairs. I'm usually a pretty upbeat person, but I was sure I won't survive this. It broke my heart to see the kids crying. I wanted to scream with fear but decided to stay strong for them, because they needed me to. It was business as usual from there."

School principal Romero Sanchez thanked the Israeli volunteers. "The Israeli volunteers' cool saved lives here. We were shocked at how 25 Heroes for Life volunteers simply sprang into action and moved the children out of the building. It seemed like they were ready for the quake to hit. We're thankful for everything they did. Their actions saved lives," he raved.