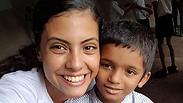 An Israeli-Indian embrace in Mumbai
Photo: Itay Blumenthal
Post army service, 23 Israelis volunteer in Mumbai school
Israelis—joining 'Heroes for Life' mission in India dedicated to memory of Maj. Daniel Pomeranz who was killed in line of duty during Operation Protective Edge—volunteer in local school for two weeks, teaching pupils math, English and environmental studies while helping renovate it.
A delegation of Israeli youths left for India last month to perform volunteer work in Mumbai for two weeks before dispersing for their post-army India trip.

The group of 23 Israelis, all in their twenties, participated in humanitarian efforts such as teaching in local schools and renovating buildings, in a mission organized by the "Heroes for Life" non-governmental organization.

The mission was dedicated to the memory of Maj. Daniel Pomeranz who was killed in the line of duty during Operation Protective Edge.

During their mission, the Israeli volunteers gave the children of a public school in the city's Santacruz neighborhood lessons in English, math, geography, history and environmental studies—emphasizing Israeli stalwarts such as water conservation and energy saving.

In the afternoon, when the school emptied of students, the paint cans and cement bags were opened and the youths started extensive renovation works, including painting walls and building flowerbeds, in order to make the structure more appealing and inviting.

Every day, a four-volunteer party would also board the train to the suburbs of Colaba, to volunteer in a makeshift school built on the upper portion of some tin shacks.

Despite the fact that ordinarily the young men and women of the Israeli humanitarian group would not engage in proper hasbara activities, the Israeli flag emblazoned on their shirtsleeves piqued locals' interest, which in turn brought up some questions.


Word of the Israeli volunteer group spread like wildfire in the neighborhood and even reached as far as the enormous Bandra train station, 30 minutes by car from where it stayed.

"They should be commended for what they've been doing. The entire neighborhood can't stop talking about the Israelis teaching here," remarked one local rickshaw driver.

Before their volunteer work was concluded, the school in which they work held a parting ceremony in their honor with local students and teachers in attendance, in which the headmistress thanked the Israeli youths.

They were only there for two weeks, but for the Indian children it was a meaningful, possibly even life-altering event.

On their last day there, a group of thankful children even came to bid them farewell, despite the fact the government announced a day of mourning following heavy monsoon rains that flooded Mumbai and caused extensive damage.

The write was a guest of "Heroes for Life."