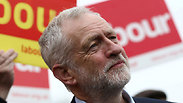 Jeremy Corbyn
Photo: Reuters
UK's Corbyn under fire amid Labour Nazi-Zionist comparison
In yet another anti-Semitic controversy, the UK's Labor party is accused of harboring anti-Semites after a speaker at one of their fringe events accused Israel of genocide, compared Zionists to Nazis and said that Holocaust denial should be debated.
The British Labour Party is yet again embroiled in an anti-Semitic scandal after a speaker at a Labour conference fringe event called for Jewish and pro-Israel groups to be expelled from the party, compared them to Nazis and said Holocaust denial should be the subject of legitimate debate.

Speaking at the event, Israeli-American author Miko Peled—a renowned and self-proclaimed anti-Zionist—said that what critics may call anti-Semitism is actually "about free speech, the freedom to criticize and to discuss every issue, whether it's the Holocaust: yes or no, Palestine, the liberation, the whole spectrum. There should be no limits on the discussion."

Then, explaining why he believes pro-Israel speakers should not be given a chance to express their opinion in party meetings, Peled compared them to Nazis and asked attendants if they too should also have been given a platform.

"It's about the limits of tolerance. We don't invite the Nazis and give them an hour to explain why they are right," he said. "We do not invite apartheid South Africa racists to explain why apartheid was good for the blacks; and in the same way we do not invite Zionists— it's a very similar kind of thing."

Other speakers were also heard declaring Israel an apartheid state, and even claiming that the "Zionist State" is responsible for the genocide of the Palestinian people. These claims were generally received with applause.

Labour's deputy leader, Tom Watson, strongly denounced the event, saying he was "disgusted" by Peled's remarks.

"It is nothing to do with the official Labour party conference, and if there was Holocaust denial there, these people have no right to be in the Labour party, and if they are they should be expelled," Watson told ITV's Good Morning Britain.

"It is disgusting to deny the Holocaust," he added. "These people are cranks, they have no role in the mainstream of politics and we certainly don't want them in the Labour party."

In response to Watson's statement, Peled said that he is not a member of the Labour party and added that he never denied the Holocaust, tweeting: "Oh boy! Free speech is now anti-Semitism too... @UKLabour should know better."

In a second tweet, Peled wrote: "What is worse, discussing the holocaust—which we know already happened or complicity with genocide in #Palestine?" Then, in a third, he added: "Stifling debate desecrates the memories of millions murdered by Hitler! Why are Zionists afraid of free speech?"

Jewish organizations are already attacking the party's chairman, Jeremy Corbyn, who is known for his pro-Palestinian views and for calling Hezbollah and Hamas "friends." The row was especially embarrassing to the Labour leader, as it came days before his party planned to pass a significant rule to toughen their stance on anti-Semitism and other forms of prejudice.

According to British daily newspaper The Guardian, Hastings and Rye delegate Leah Levane, who is a member of the anti-Zionist Jewish Voice for Labour, attacked the Labour's new rule, claiming accusations of anti-Semitism were voiced because people criticized "the despicable actions of the Israeli government against the Palestinian people."

Levane's local party proposed an alternative to the new rule, which would describe anti-Zionism as "legitimate political discourse" which should not be considered as Anti-Semitic, but withdrew his proposal because "the pressure is too great" against it, adding that she didn't want her group to be considered divisive.

Corbyn's troubles didn't end there though, as he was heckled for skipping an Israeli event at Labour conference.

According to Sky News, Israel's ambassador to the UK Mark Regev criticized Corbyn's decision to skip out on appearing at a Labour Friends of Israel event on Tuesday, especially as it took place just days after the anti-Semitic scandal at the fringe event.

Attendants at the event were told that Crobyn was not attending the event in order to prepare for his keynote conference speech on Wednesday. However, photos later revealed that Corbyn instead attended a Daily Mirror party, where Labour ministers were seen singing karaoke.

Chief Executive of the Equality and Human Rights Commission Rebecca Hilsenrath commented on the scandal, saying: "Anti-Semitism is racism and the Labour Party needs to do more to establish that it is not a racist party. A zero-tolerance approach to anti-Semitism should mean just that.

"These comments by party members show more needs to be done to root out anti-Semitic views that clearly exist in the party. Any suggestion of kicking people out of any political party on the grounds of race or religion should be condemned."