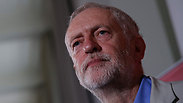 Jeremy Corbyn draws analogy between ISIS and Israel
The British leader of the opposition, speaking at a press conference announcing the Labour Party's anti-Semitism report, compared Israel and its government with ISIS and other organizations of its ilk; his Israeli counterpart, Isaac Herzog, and other politicians have rushed to condemn him; MK Livni: 'not all Brits are to blame for Corbyn.'
UK Leader of the Opposition and Leader of the Labour Party Jeremy Corbyn drew an analogy connecting between terrorist organizations and Israel while speaking at a press conference releasing his party's report on anti-Semitism on Thursday afternoon. He was quickly criticized for so doing.

Corbyn said at the conference, "Our Jewish friends are no more responsible for the actions of Israel or the Netanyahu Government than our Muslim friends are for those various self-styled Islamic states or organizations."

Corbyn's controversial statement

Later asked if he intended to compare Israel with ISIS, Corbyn replied, "No, no of course I'm not. The point in the report is that you shouldn't say to somebody just because they're Jewish, 'You must have an opinion on Israel,' any more than you say to anyone who is a Muslim, 'You must have an opinion on any vile action that's been taken by misquoting the good name of Islam.' I just ask people to be respectful and inclusive in their debate."

The beleaguered party leader has had most every member of his shadow cabinet resign in recent days following the failure of Labour's "Remain" campaign in the Brexit referendum. Since his election as party leader in September 2015, Corbyn and many in his party have made public statements against Israel and Jews.

London's first mayor, Ken Livingstone, was one such Labour-party member who both stated that Adolf Hitler was a Zionist and that "the creation of the State of Israel was a great catastrophe." Another was MP Naz Shah, who posted to social media that Israel should be relocated to the US.

Labour Party lawmaker Ruth Smeeth said the party "cannot be a safe space" for British Jews after Corbyn did nothing while she was verbally abused with anti-Semitic slurs by one of his supporters at the event.

"I call on Jeremy Corbyn to resign immediately and make way for someone with the backbone to confront racism and anti-Semitism in our party and in the country," she said.

Corbyn's Israel counterpart, Leader of the Opposition and Labor Party Chairman Isaac Herzog, condemned Corbyn's latest pronouncements on Twitter. He wrote, "Corbyn's suggestion of moral equivalence between Israel and ISIS is outrageous, unacceptable, and a betrayal of global Labour values."

He also tweeted, "Corbyn's views represent a consistent hatred of Israel. Like the notorious Ernest Bevin failed, so too will Jeremy Corbyn." (Bevin was the British foreign secretary during the creation of the State of Israel and has been accused of anti-Semitism.)

UK Chief Rabbi Ephraim Mirvis called the comments "offensive" and counterproductive.

"The comments by the leader of the Labour Party at the launch, however they were intended, are themselves offensive, and rather than rebuilding trust among the Jewish community, are likely to cause even greater concern," said Mirvis.

Yesh Atid Chairman Yair Lapid posted later on Thursday to his Facebook timeline, "I call on the Labor Party in Israel to cut all ties with their counterpart in Britain until the Leader of the Labour Party, Jeremy Corbyn, is replaced…

"This morning, on the same day, Hallel-Yaffa Ariel, an innocent girl was murdered in a terrorist attack by a despicable and evil terrorist just because she was a Jew.

"It is unacceptable that on such a difficult day for the State of Israel the Leader of the Opposition in the UK compares Israel and ISIS. It's not only infuriating ignorance, it is pure anti-Semitism. The State of Israel lives by democratic values, morality and justice and fights every day against terror organizations sworn to the murder of innocents."

MK Tzipi Livni (Zionist Union), wittily tweeted, "Corbyn's words imply a serious lack of moral judgement. Just as all Muslims are not to blame for ISIS, not all Brits are to blame for Corbyn."

AP contributed to this report.