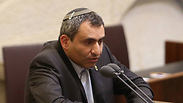 Ze'ev Elkin
Photo: Gil Yohanan
Minister bemoans Trump's Obama-era settlement policies
Exposing first glimmer of daylight between Israel and Trump administration, Ze'ev Elkin publicly criticizes Washington's prohibiting Israeli construction over the Green Line; 'For some reason, when it comes to building they are marching in the way of the Obama administration.'
Environmental Protection Minister Ze'ev Elkin (Likud) criticized the US Trump administration Monday night on its policies regarding Israeli construction over the Green Line, accusing it of continuing policies pursued by his predecessor Barack Obama.

"This administration feels comfortable changing the obligations set out by the Obama administration in the climate agreement and with many other things, but for some reason on the issue which affects us, they are clutching at the same idea that building beyond the Green Line is a negative Israeli step," Elkin said during a conversation with Yedioth Ahronoth.

With Trump's entry into the White House at the beginning of 2017, elated right-wing party members welcomed the change, believing that it would usher in an era of unfettered or at least less restricted Israeli construction of settlements in the West Bank and eastern Jerusalem, a privilege never afforded by the Obama administration.

However, since January hopes on the Israeli Right have been dashed, with a number of instances in which Trump has put the brakes on Israeli construction, the most recent of which took place when Washington blocked 31 units from being built in Hebron.

Elkin, who is seeking to push forward with the plan, bemoaned Trump's failure to show greater flexibility by allowing for its implementation. Trump, he complained, appeared to have departed from every policy position of the Obama administration save the Israel-Palestinian conflict.

Nevertheless, Elkin emphasized that despite his objections to the current administration's position on that specific matter, cooperation between Israel and the US, even as it pertains to the Palestinian issue, is flourishing and is significantly better off than when Obama directed the White House.

"This administration works and cooperates with us much better," Elkin noted, "but for some reason, when it comes to building they are marching in the way of the Obama administration."

But the US's halting of the Hebron plan is not the first time pro-settler movements and officials have been disappointed.

Indeed, Trump administration officials allegedly issued a warning to Prime Minister Benjamin Netanyahu against excessive building of settlements in the West Bank, telling him "you can be a pig, but don't be a 'Hazer,'"—a well-known Yiddish term for a gluttonous pig.