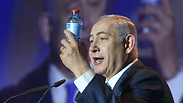 PM Netanyahu
Photo: Alex Kolomoisky
Trump official to PM: don't be a 'pig' on settlements
Yesha Council leaders leave meeting with Netanyahu 'very concerned' after prime minister relays message by White House officials instructing Israel to refrain from excessive construction in the West Bank; 'We have no interest is quarrelling with the friendly administration,' PM says.
US Trump administration officials allegedly issued a warning to Prime Minister Benjamin Netanyahu against excessive building of settlements in the West Bank, telling him "you can be a pig, but don't be a 'Hazer,'"—a well-known Yiddish term for a gluttonous pig.

Netanyahu reportedly relayed the message to the pro-settlement Yesha Council during a meeting on Wednesday in which representatives presented the prime minister with a list of demands for improving infrastructure in West Bank settlements and seeking approval for 10,000 new housing units in the area.

The Trump administration, he said, was gearing up to announce plans to restart the peace process between the Palestinians and Israel.

"Israel is acting with responsibility and discretion and the government is not interested in quarreling with the friendly administration," Netanyahu told the representatives present at the meeting, who were perturbed by the implication that the government would not be launching the construction program on the scale they had hoped for.

One of the settler heads at the meeting, who spoke on condition of anonymity, said that participants left the meeting "extremely concerned" and deduced that Netanyahu was effectively preparing the ground for Trump's political program which will require that Israel relinquish territory in the West Bank and that the Israeli premier had already reconciled himself with such an eventuality.

During the meeting the council representatives charged that a systematic policy of "discrimination" had taken place with the government's refusal allocate necessary funds for improving infrastructure in the West Bank for settlements.

"While in small Israel, both in the urban centers and in the periphery, huge investments are being made, in Judea and Samaria there is neglect that has been going on for years of everything related to the development of transportation, water, electricity and gas infrastructure," the Yesha representatives complained.

Later on Wednesday night, Netanyahu vowed "not to uproot Jews or Arabs" at a ceremony in Gush Etzion to mark 50 years to the Jewish settlement in the West Bank, the Jordan Valley and the Golan Heights.

"The settlement enterprise is as important to me as it is important to you, my friends," Netanyahu said. "This is why I say, clearly and before anything else, there will be no more uprooting of communities in the land of Israel."

"This isn't just a question of the ties to the homeland," he continued. "But primarily it is not the way to achieve peace. We won't uproot—not Jews nor Arabs."