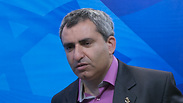 Ze'ev Elkin
Photo: Ohad Zwigenberg
Elkin 'disappointed' Trump hasn't moved US embassy to Jerusalem
Jerusalem affairs minister says relocating the American embassy from Tel Aviv to Jerusalem will not prevent peace, but rather 'the conduct of the Palestinian leadership that in a clear way chooses to continue to promote the atmosphere of hatred and terror against Israel.'
Minister of Jerusalem Affairs and Environmental Protection Ze'ev Elkin said Monday he was "disappointed" that US President Donald Trump hasn't kept his campaign promise to move the US Embassy from Tel Aviv to Jerusalem.

Trump has backed away from the campaign pledge on the embassy move as his Mideast envoy attempts to breathe life into peace talks between Israel and the Palestinians, which last collapsed in 2014.

"There were very clear election promises, not to the State of Israel but to the American voter, of moving the embassy, and I very much regret the delay," Elkin told Army Radio.

He said that it was "incorrect" to claim that relocating the embassy "will prevent peace."

"What prevents peace ... is the conduct of the Palestinian leadership that in a clear way chooses to continue to promote the atmosphere of hatred and terror against Israel," he said.

Criticism of Trump is rare in Prime Minister Benjamin Netanyahu's right wing coalition government, but this is the second time in a week Elkin has come out against the American president. Last week, he bemoaned Trump's Obama-era settlement policies.

Trump is more sympathetic to settlements than his predecessor Barack Obama, who together with the international community considers them illegal and obstacles to Palestinian statehood.

Two decades of US-led peace plans have called for evacuating settlements to make room for a Palestinian state alongside Israel. Netanyahu's hard-line base opposes such a move, citing religious, security or nationalistic grounds.

Recently, Netanyahu approved the construction of over 3,800 homes in the West Bank, including in the Jewish settlement in Hebron and in isolated settlements. Elkin said he expects the government will greenlight construction next week.