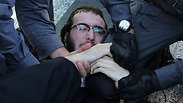 Haredi protestor arrested
Photo: Amit Shabi
Nine people were arrested on Wednesday evening In Jerusalem for trying to prevent an Israel Prison Service vehicle from transporting the arrested ultra-Orthodox draft dodgers to the military police, as Haredi protesters' anti-draft struggle enters its third day.

Dozens of ultra-Orthodox members of Rabbi Shmuel Auerbach's Jerusalem Faction arrived at the Magistrate's Court in Jerusalem and gathered around an IPS vehicle that led detainees to The Russian Compound Interrogation Center and Prison, in an attempt to prevent its departure.

A police force dispersed the protesters and allowed the vehicle to continue on its journey.

Haredi protesters blocking IPS vehicle (צילום: מני רפאל, א. כהן)

Meanwhile, several dozen ultra-Orthodox demonstrated at the entrance to the city of Ma'aleh Adumim.

Several of them blocked traffic at the entrance to the city and the police arrested three demonstrators who did not respond to the policemen's request to clear the road and continued to disturb the peace.

They were eventually dispersed and traffic began to run as usual.

On Tuesday, Haredi protesters flooded the streets of Jerusalem and Beni Brak in objection to the arrests of several Haredi youths who refuse to enlist to the IDF.

Protesters who blocked several roads in Jerusalem yelled in unison "We'd rather die than enlist!" while Haredi protesters in Bnei Brak yelled "Damn Germans!" at police and began altercations with police officers.

A total of 40 protesters were arrested and taken in for investigation in both cities.

On Monday, dozens of Haredim blocked roads in Jerusalem, with some calling police officers "Nazis." One police officer was seen threatening protesters by yelling, "Who wants to get a bullet?"