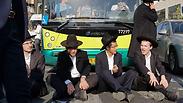 Haredi anti-draft protest
Following Monday's violent protests in Jerusalem and Bnei Brak, Haredi protestors returned to the streets on Tuesday in objection to the arrests of several Haredi youths who refuse to enlist to the IDF.

Protestors in unison who blocked several roads in Jerusalem yelled "We'd rather die than enlist!" while Haredi protestors in Bnei Brak yelled "Damn Germans!" at police and began altercations with police officers.

Haredim protesting their army draft (צילום: אלי מנדלבאום וישי פורת)

A total of 40 protestors were arrested and taken in for investigation in both cities. They were eventually dispersed and traffic began to run as usual.

Rioting in Bnei Brak (צילום: ניצן דרור, ''הבני ברקים'', דוברות הפלג הירושלמי)

On Monday, dozens of Haredim blocked roads in Jerusalem, with some calling police officers "Nazis." One police officer was seen threatening protestors by yelling, "Who wants to get a bullet?"

Rioting in Jerusalem (צילום: ישי פורת)

There was also a Haredi protest in the nearby city of Beit Shemesh, where several rioters attacked police officers and four were taken in for questioning.



The protests were led by The Committee to Save the World of Torah, following the arrests of two yeshiva students who were arrested by police on Sunday, after they were discovered to be draft dodgers.

Two other dodgers, who were sentenced to 20 days in prison for not enlisting, have also been used as catalysts, in additional protests.



Following the two young men's arrests, the Committee to Save the World of Torah issued a statement. "The entire Haredi public has had it with these useless attempts to turn its sons to soldiers and with attempts to disrupt the Haredi way of life for the benefit of external interests.

"Young Haredi men do not belong in the IDF or any army, and it is embarrassing to see how the State of Israel repeatedly fails, through its various municipalities and elected officials, to understand this.

"The fight over enlistment is the Haredi public's fight for existence," ended the statement.