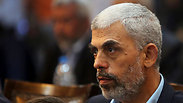 Hamas leader in the Gaza Strip, Yahya Sinwar, stressed Thursday afternoon that the terror organization's disarmament was off the table and that it has no intention of recognizing the State of Israel.

"Gone is the time in which Hamas discussed recognition of Israel. The discussion now is about when we will wipe out Israel," Sinwar said in a speech in Gaza.

Addressing the demand from both Israel and the United States for Hamas to be disarmed, Sinwar declared: "No one will disarm us. No one can disarm Hamas."

Sinwar said that Mohammed Deif, the commander of the Izz ad-Din al-Qassam Brigades, told him a few days ago that Hamas's military wing has recovered its strength, and if Israel thought of carrying out any "foolish act" against the Palestinians, they would "break its army as it was never broken before."

He further asserted that "If the Fatah movement and President Mahmoud Abbas use the weapons of resistance in the negotiations (as a threat to Israel), it will greatly advance the Palestinian issue."

Sinwar went on to stress the importance of the reconciliation efforts with the Palestinian Authority, inviting Fatah and the Palestine Liberation Organization (PLO) to hold the next unity discussions in Gaza.

"We must not allow the reconciliation to fail," he said, and invited Abbas to Gaza. "I will personally ensure the safety of President (Abbas), if he visits the Gaza Strip. I call on the Fatah Central Committee and the PLO Executive Committee to hold their next meeting in Gaza."

US President Donald Trump's special Mideast envoy, Jason Greenblatt, said Thursday that if Hamas wants to play a role in any Palestinian government, it must renounce violence and commit to peaceful negotiations with Israel, adding that they must meet the international demands to recognize Israel and accept previous agreements with it.

"The United States reiterates the importance of adherence to the Quartet principles: any Palestinian government must unambiguously and explicitly commit to nonviolence, recognize the State of Israel, accept previous agreements and obligations between the parties—including to disarm terrorists—and commit to peaceful negotiations. If Hamas is to play any role in a Palestinian government, it must accept these basic requirements," Greenblatt said.

Hamas has always refused similar demands in the past.

On Wednesday, the Israeli Political-Security Cabinet decided the country will not negotiate with the Palestinians until Hamas is disarmed. The reconciliation agreement did not broach the issue of Hamas disarmament.