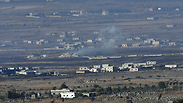 File photos
Photo: Avihu Shapira
The IDF attacked a Syrian army post on the outskirts of Quneitra on Thursday afternoon in retaliation for an errant rocket that landed in Israel.

According to reports in Sham FM radio, which is affiliated with the Syrian regime, and the Lebanese news site Elnashra, no one was hurt in the IDF attack.

The rocket, which is believed to be "spillover" from the fighting raging across the border, landed in an open area in the northern Golan Heights. No one was hurt and no damage was reported.

"The IDF will not tolerate any attempt to undermine the sovereignty of the State of Israel and the security of its citizens. The IDF views the Syrian regime as responsible to what is happening on the ground," the IDF Spokesman's Office said.

Prime Minister Benjamin Netanyahu commented on the attack during a ceremony marking 50 years of settlement in the Jordan Valley on Thursday evening.

"Our eastern line of defense starts here in this place. And if we were not here, Teheran and Hamastan would be; we will not allow this to happen," he said.

"We see what is happening a short distance north of here, when they take up a position—or try to—over the border. We have a clear policy: Whoever tries to hurt us, we will hurt them. We will not tolerate 'trickles' and if they attack us, we return fire, and this does not take a lot of time."

Earlier this week, the Syrian army launched an SA-5 anti-aircraft missile at Israeli Air Force planes on a reconnaissance mission over Lebanon. In retaliation, the IAF bomb the SA-5 battery, destroying its fire control radar.

Netanyahu followed up the IDF's retaliation strike against Syria on Monday by stating, "Whoever strikes at us, we strike at them. Today they tried to harm our planes—unacceptable.

"The air force acted precisely and swiftly, destroying what needed to be destroyed. We will continue to act in the space as much as necessary to defend Israel's security."

Iranian military chief of staff General Mohammad Baqeri said Wednesday the Islamic Republic would not accept Israeli violations in Syria.

"It is not acceptable for the Zionist regime to violate Syria anytime it wants," Baqeri said during a meeting in Damascus with his Syrian counterpart, Ali Abdullah Ayyoub.

Baqeri, on a rare visit to Syria, pledged to fight Israel and Sunni insurgents.

"We are in Damascus to assert and coordinate and cooperate to confront our common enemies, the Zionists and terrorists," he said. "We drew up the broad lines for this cooperation."