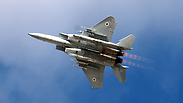 File photo
Photo: IDF Spokesman's Office
IAF retaliates against Syrian surface-to-air missile battery
Syrian army launches missile toward Israeli jets operating over Lebanon, leading the air force to return fire, attacking and destroying battery's fire-control radar; IDF spokesman: 'We won't allow such provocations from Syria'; PM Netanyahu responds: 'Whoever strikes at us, we strike at them.'
The Israel Air Force attacked a Syrian aerial defense battery on Monday morning, which earlier launched a surface-to-air missile towards IAF planes.
Prime Minister Benjamin Netanyahu followed up the IDF's retaliation strike against Syria by stating, "Whoever strikes at us, we strike at them. Today they tried to harm our planes—unacceptable.
"The air force acted precisely and swiftly, destroying what needed to be destroyed. We will continue to act in the space as much as necessary to defend Israel's security."
The incident occurred shortly before an expected visit by Russian Defense Minister Sergey Shoygu to Israel, who arrived on Monday. Following the IDF's retaliation strike, Shoygu met with Israeli Defenese Minister Avigdor Lieberman and IDF Chief of Staff Gadi Eisenkot in the Kirya base in Tel Aviv. During their meeting, Lieberman spoke about the situation in Syria and Iran's involvement in the country, including its attempts to establish itself as a major player in Syria. He also spoke about Lebanon-based terrorist group Hezbollah's activities in the region.
"We will not interfere in Syria's internal affairs, but on the other hand we will not allow Iran and Hezbollah to turn Syria into an outpost against Israel," stated Lieberman. "We will not allow the transfer of sophisticated weapons from Iran through Syria to Lebanon."
The Syrian army also responded to the attack, warning Israel "of the serious ramification of its repeated aggression," claiming falsely that one of the Israeli aircraft was hit.
"Israeli Air Force planes infiltrated Lebanese airspace near the border in the Baalbek area at 8:51am, and the aerial defense apparatus fired in their direction. One of the planes suffered a direct hit and had to escape," the Syrian army claimed in a statement.
"At 11:38am, the Israeli enemy launched several missiles from inside Israeli territory, which fell in one of the Syrian outposts on the outskirts of Damascus. As a result, there was only damage to property," the Syrian statement went on to say.
According to the IDF Spokesman's Office, the anti-aircraft SA-5 battery, located 50 km east of Damascus, fired a missile at Israeli fighter jets on a reconnaissance mission over Lebanon at around 10am.
The fighter jets responded about two hours later by launching four bombs towards the battery, destroying its fire-control radar. All Israeli aircraft returned safely to basis.
"We know according to our intelligence it was a battery controlled by the Syrian regime and we hold the Syrian regime responsible for the fire," IDf spokesperson Lt. Col. Jonathan Conricus said.
"We're prepared for any possibility," said IDF Spokesman Ronen Manelis. "This was a Syrian provocation, and we will not allow it. On the other hand, we have no intention of escalating."
Manelis said Russia was updated about the attack against the battery in real time.
A similar incident occurred in mid-March, when the same Syrian battery fired anti-aircraft missiles at IAF jets that—according to Arab reports—were attacking strategic weapons bound for Hezbollah. One of the anti-aircraft missiles was intercepted by Israel's Arrow missile defense system.
Reuters contributed to this report.