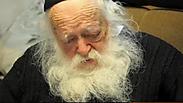 Rabbi Chaim Kanievsky, one of the leaders of the ultra-Orthodox community, attacked the Jerusalem Faction over the battle its members have been waging against the draft law in recent days, calling them an "empty and reckless flock without a shepherd."

Kanievsky is considered one of the "greatest (rabbis) of his generation" and the second-most influential rabbi in Lithuanian Judaism, led by Rabbi Aharon Yehuda Leib Shteinman.

In a letter to the Orthodox Jewish weekly newspaper Yated Ne'eman, the rabbi implicitly criticized the leader of the faction, Rabbi Shmuel Auerbach, and describing his students as "a flock without a shepherd," who lack piety and commit acts of desecration of the Torah.

Despite the open rivalry between Kanievsky's mainstream Lithuanian faction and Auerbach Jerusalem Faction, Rabbi Kanievsky's criticism of Rabbi Auerbach and his followers is an unusual step, as the Jerusalem Faction has been largly ignored within the Orthodox community, dismissed as a mere vocal minority.

The change in Kanievsky's tone took place following recent a disturbance caused by ultra-Orthodox youths associated with the Jerusalem Faction, who barged into the mainstream Ohr Yisrael yeshiva during one of their recent anti-draft protests and disrupted a Torah lesson held there.

"I have been sick to my stomach over recent harm to the sanctity of the Torah, which has been degraded to the very depths of hell by some empty and reckless (youths—ed)," Kanievsky wrote. "Woe to us that this is the case today."

In an editorial published by the newspaper Yated Ne'eman following Kanievsky's letter, the members of the Jerusalem Faction were called an "inflamed mob" and "public desecrators," who act as "street youth" and cast fear on the general public.

The demonstrations culminated on Thursday, with the arrest of 120 ultra-Orthodox demonstrators during the "Day of Wrath" protests in Jerusalem.

The detainees, all belonging to the Jerusalem Faction, protested against the enlistment of yeshiva students and the detention of deserters.

90 detainees were released Thursday night under restrictive conditions and received fines.

About 30 other detainees were brought to the Jerusalem Magistrate's Court Friday, but it is not clear which of them will be brought for a remand hearing or whether it will be decided to release them under restrictive condition.

This week's ultra-Orthodox protests were sparked by the arrest of two Jerusalem Faction yeshiva students, who returned from the Dead Sea to Jerusalem and were flagged down for routine check by police. When the officers ran their names, they found they were defectors from the army and arrested them.