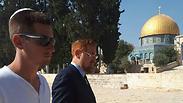 Glick (R) and his son Shlomo
Photo: Saadia Gordetsky
Prime Minister Benjamin Netanyahu permitted MK Yehuda Glick (Likud) to visit with his son Shlomo the Temple Mount on Wednesday on the occasion of his marriage, following the groom's request to tour the holy site with his father before the wedding.

It is the second time MK Glick has received the green light to visit the compound since the prime minister forbade MKs from visiting the holy site two years ago, in October 2015.

Last July, following pressure on Netanyahu from the Right and after the police recommended allowing the MKs to visit the site, Netanyahu allowed Glick, together with MK Shuli Mualem-Rafaeli (Bayit Yehudi), to visit the Temple Mount as part of a new pilot program allowing MKs to hold visits there which were coordinated with the police.

The visitation was preceded by a hearing in the High Court of Justice last week concerning a petition filed by Glick against the prohibition, from which he emerged with "a feeling of humiliation" after judges David Mintz and Hanan Meltzer suggested that he resign from the Knesset if he so desperately wants to visit the mount.

With Netanyahu's blessing, it is the first time a Jewish MK has visited the site following the launch of the pilot, and the second time one has done so following the prohibition, as Arab MKs violated the ban on several occasion, even though the are also required to abide by the injunction.

Glick congratulated the prime minister on the unusual approval, describing it as "the best gift I could have received on the occasion of my son's wedding."