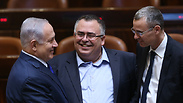 Prime Minister Netanyahu and MK Bitan
Photo: Alex Kolomoisky
Coalition work halted indefinitely over PM immunity bill
Ministerial Committee for Legislation will not vote on coalition bills until dispute is resolved over the contentious legislation to shield a sitting prime minister from police investigation; MK Bitan initially said bill will go to up a vote this week after Bayit Yehudi officials had said proposal was 'dead.'
Discussions at the Ministerial Committee for Legislation on bill proposals by the coalition will be postponed indefinitely over an ongoing dispute between the Likud and Bayit Yehudi parties over contentious legislation to shield a sitting prime minister from police investigation.

Prime Minister Benjamin Netanyahu, Minister Yariv Levin and Bitan himself decided Wednesday to push the vote on the bill, also known as the "French bill," by a month in the wake of objections to the legislation from coalition partners Kulanu and Bayit Yehudi.

But Coalition Chairman MK David Bitan (Likud) announced on Saturday the legislation will go up to a vote on Sunday regardless.

According to Bitan, the Likud leadership changed course after Bayit Yehudi officials had told journalists in off the record talks the legislation was "dead" and had no chance of passing.

Justice Minister Ayelet Shaked (Bayit Yehudi) raised objections to the latest Likud move, claiming the bill can't be put to a vote, because an explicit agreement has been reached between the parties.

Talks between coalition officials—held every week on Saturday night to determine whether to support bills on the agenda—were cut short on Saturday night over the Likud Party's demand to put the legislation to a vote this week. The coalition partners therefore decided not to hold any votes at the Ministerial Committee until further notice.

The Ministerial Committee did not vote on coalition bill proposals last week either, again because of the disagreement over the "French bill."

In an interview with Ynet on Sunday, Shaked allowed that "It makes sense not to investigate a prime minister about things that are, I would say, minor, like misdemeanors and infractions," stressing however that "It is not something that should be done quickly. It is something that requires thorough and in-depth discussion."

She stressed that she would "not allow the bill to pass without the coalition factions sitting and discussing it. Even in the coalition agreements, each faction has the ability to stop (an amendment to) a Basic Law at every stage of the legislation. The Ministerial Committee on Legislation is the most important stage because at this stage the coalition's position is determined. Therefore, this bill will be discussed only after all the factions have consolidated their position."

Meanwhile, Finance Minister Moshe Kahlon has decided to allow his Kulanu party members to vote as their conscience dictates. Because the bill is an amendment to Basic Law: The Government, it requires a majority of 61 MKs to pass. Without the assured votes of the Kulanu party, the legislation is unlikely to pass.

Attorney General Avichai Mandelblit also came out against the legislation proposal, dubbing it "absurd," saying it "creates a problem with equality before the law" and raising concern that "The role of prime minister, the highest in the land, will become a sanctuary for felons."