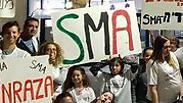 Families of children with SMA protested in front of Kahlon's home
Hundreds of protesters, including children afflicted with spinal muscular atrophy (SMA) and their families, held an emergency rally Saturday night in front of the home of Finance Minister Moshe Kahlon, demanding that an immediate budget allocation for life-saving treatments for 80 children with SMA be made.

The children's parents also petitioned the High Court of Justice through their attorney Tamir Blank of the Lustigman & Blank law firm, seeking urgent discussion of the petition they made against the Ministry of Health and Finance, and an emergency budget allocated to saving their children's lives.




"More than 60 days have elapsed since you met us and despite your assurances to save our kids' lives we learned from the state's response to the High Court—reflecting the position of your ministry's officials—you've done nothing to save them," the parents said to Kahlon.

Footage of Saturday's protest

"We understand you chose to hide behind finance officials' stance, considering not breaching budgetary framework or, God forbid, allocating emergency budget more important than our children's lives," they said.

"You chose to hide behind the positions of your officials and ignore the fact many countries have already recognized the urgency of the situation and announced a special budget for life-saving treatments for kids with SMA," the protesters continued.

"You chose to hide behind your officials and ignore the opinions of Israel's most senior physicians declaring the emergence of a first-of-its-kind drug. If the SMA children don't receive it before this coming winter, they may well pay for it with their lives," the enraged parents concluded.