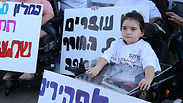 SMA patients and their families protesting outside the Finance Ministry
Photo: Amit Shabi
Families of children with SMA demand funding for new drug
The drug Spinraza, which was recently approved by the FDA to treat spinal muscular atrophy, could save children's lives by not only halting deterioration but also improving their condition; but its high cost led parents in Israel to urge the Finance Ministry to find funding for it.
Dozens of families of children suffering from spinal muscular atrophy (SMA) demonstrated outside the Finance Ministry in Jerusalem on Sunday, demanding immediate funding of the life-saving drug Spinraza.

SMA is a hereditary disease that causes weakness and muscle wasting because of the loss of lower motor neurons controlling movement.

Mothers of Israeli children suffering from SMA marched from Rehovot to Jerusalem, arriving to the capital on Friday, as part of the struggle to get funding for the drug, which costs NIS 2 million ($558,000) a year per patient.

"We're in a fight for our children's lives, and we will not stop until we get that medication for them," said Osnat Attali-Briand, whose daughter suffers from SMA. "We pay high health taxes every month for drugs and health services the state is obligated to provide us with, and it is the obligation of the State of Israel to save the SMA kids."

She went on to say that in other countries, "there are emergency systems in place to give the drug to anyone who needs it without having to wait for it to be approved as part of the healthcare basket (of medication and medical services subsidized or paid for by the government)."

Her daughter, she said, has French citizenship, which enables her to get the treatment in France, where there is already a system in place to provide the drug to patients. "I served in the army, my son serves in the army, I pay taxes, and yet I still need to leave the country to get treatment," Attali-Briand said.

Oren Katz, who has two daughters suffering from SMA, called on Finance Minister Moshe Kahlon to hold an emergency discussion on the matter. "Some of the children are bedridden at home or at hospitals and have to breathe with the help of a respirator. There's a way to save children, but the state is not coming to their aid. This is unimaginable," he lamented.

Several months ago, the American Food and Drug Administration (FDA) announced a breakthrough in treatment for SMA and approved the drug Spinraza, which in addition to stopping the deterioration of a patient's condition could also improve it.

Because of the high price tag, families are demanding the government to find funding for the drug even before the discussions over next year's healthcare basket.

Omer Ben-Bron, a 13-year-old who suffers from SMA, pleaded with the government "to find the budget so we can get the medication and be able to live a better life without having to depend on those around us."

A month ago, the family of five-year-old Shalev Bokovza launched a crowd funding campaign to help pay for the costly medication. Shalev was diagnosed at age seven months and his condition has been deteriorating since, with doctors concerned he will soon not be able to breathe on his own.

"If Shalev doesn't get the injections (of the drug), he won't live," his father Eldad told Ynet. "They told us he won't survive to the age of two, but he's been living for five and a half years thanks to the love he receives from his family."

Economy Minister Eli Cohen, who is a member of Kahlon's Kulanu Party, joined the parents' demonstration. "I couldn't remain indifferent to the protest," he said. "The parents are asking for something basic, there is nothing more important than that."

Cohen told the parents he would ask the ministers of health and finance to hold a discussion on funding for the drug, adding "There is no protest more just than yours."