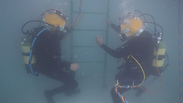 Yaltam fighers training
Photo: IDF Spokesperson's Unit
Underwater with Navy's secret missions unit
In addition to locating missing people at sea and dealing with old naval mines and explosive devices, the men and women fighters of the Yaltam unit will soon be facing the deepest mission the Israeli Navy has ever been tasked with—defending the gas drilling rigs, 300 meters below sea level.
The metallic knocking and faint sounds beyond the claustrophobic darkness are the main landscape in the special fighting zone of Yaltam, the Israeli Navy's Underwater Missions Unit.

The unit, which is used to operating 100 meters underwater, will be required to break a record in the future by diving 300 meters below sea level, for defense purposes, on the gas rigs the Israeli economy is already relying on.

From a distance of hundreds of kilometers off Israel's shores, Yaltam fighters will be required to defend the strategic asset whose waypoint is already in the crosshairs of Hezbollah's advanced Yakhont missiles—the gas drilling rigs.

There, at the bottom of the "shelf" in the depth of the Mediterranean Sea, the fighters will emerge for prevention measures aimed at thwarting any threat being prepared by Hassan Nasrallah's organization.

Meanwhile, the fighters are busy locating missing people at sea and handling old naval mines and explosive devices.

A Ynet crew joined the unit's "beret march" swim after it completed eight months of an exhausting track, and held a first-of-its-kind interview, inside the water, with the unit's commander, Lieutenant Colonel Ido Kaufman.

"It's highly critical if a merchant vessel arriving in Israel is harmed, because then the rest of the boats wouldn't come and the supply of goods to Israel would be halted," Lt. Col. Ido explained how the naval arena turned into a defense stronghold.

"We also know how to deal with underwater sabotage, which causes the enemy a lot of destruction and damage, but I can't go into detail. In past wars, we carried out operational activities on the borderline and beyond the borderline.

"The exclusive economic zone," Ido added, "presents a new challenge of reaching depths of 300 meters, and we are trying to overcome this challenge by looking into the future purchase of means of warfare that will cater to this need."

There are few units in the IDF with such diverse missions like Yaltam. In routine times, the fighters find themselves searching for citizens who have gone missing in the Sea of Galilee or handling a suspicious blank shell spotted floating off the shores of Haifa.

That same week, the fighters might also be deploying or upgrading a sensor network for the detection of enemy divers off the shores of the Gaza Strip or on the maritime border with Lebanon. Shortly afterwards, they would sail hundreds of miles west to find a needle in a haystack: To locate and lift from the deep water a new missile launched as part of an experiment with a new Israel Air Force system.
Neutralizing the threat within several minutes
The next big challenge facing Ido and his subordinates has to do with defending the exclusive economic zone. Navy officials have realized that the remote gas drilling rigs are only a small part of the mission. Important sailing routes pass near the Israeli rigs, making them vulnerable.

"The enemy has made progress in its ability to attack from the air and from the sea, and the underwater area is progressing too, so we have to precede what the enemy has in store for us. It's a huge, long, wide and deep area, and we must get to know it very well," says Lt. Col. Ido.

We received a taste of the possible threats to the exclusive economic zone a moment before arriving at the port. The calm created by the breakwater on the backdrop of Mount Carmel was violated by a powerful underwater explosion, which created a foamy waterspout and metal particles flying above it.

The unit's Explosives Squadron tried to cut 8 millimeters of a thick metallic cord, inside the water, to which a mine was firmly attached, using an explosive device containing 1 kilogram of plastic explosives, which the fighters were required to assemble in no time.

"We have designated explosive devices for this mission, but sometimes we'll be very far from the mother base or from the bunker, and we'll have to act quickly," explained Major Ron Inbar, commander of the Explosives Squadron. "This way, we'll be able to neutralize the threat within just a few minutes."

Ron and his fighters have several diving methods, including surface-supplied diving in which they are connected to a boat above them with long tubes, or more independent diving based on breathing systems.

His commander, Lt. Col. Ido, elaborates on the dangerous cases in which "a fighter could encounter breathing problems due to strong currents deep in the water, and cases of exaggerated self-confidence, when instead of getting some air from his diving partner, a fighter starts searching for solutions himself. In radical situations underwater, you must stop, relax and continue the mission. When you're in the water, everything is quiet, and there is someone behind you who is counting on you.

"We also have the tiny underwater vehicle, which will soon be replaced with a larger and stronger robot against the strong currents in the Mediterranean Sea, with a sonar that scans a wider radius."
'Sara is the strongest fighter on the team'
Back to the "naval beret march." The 12 cadets, who have completed a five-hour swim from the Meridien Hotel area in southern Haifa to the port area, are escorted by Sergeant Major Noa Keren, an instructor, fighter and sapper in the unit. She lets the exhausted cadets take a short break and hands them raisins to freshen up.

Eleven years ago, the unit began admitting women too, and one of the fighters who stood out is Sergeant Sara Anog, the only woman fighter in the current class which completed the route.

"We don't have to walk so much and don't have to climb mountains either," says Sergeant Major Noa. "This kind of swimming is physically very difficult, because we'll use this ability on the coldest days and on the hottest days, in high seas and in strong currents. After all, it's not natural for the body. Sara meets the requirements just like the boys, so there's no reason for her not to succeed. This unit needs men and women fighters with strong motoric capabilities, an ability to work with tools and excellent physical fitness. It's a voluntary unit, and no one forces you to put your head under the water."

Sergeant Noam Zinger, who swam alongside Sara, says she is "the strongest one on the team, even if not physically. She is the strongest in mind."

Sara herself says she never dove before starting the route as part of the unit. "I seized the opportunity. There's no feeling here of differences between the boys and girls, and you always feel there's someone next to you."

Like infantry regiment commanders who have women fighters too, Lt. Col. Ido has similar things to say about his female subordinates: "Our unit is considered very manly compared to similar units in the world, because of the heavy weights the soldiers are required to carry, but we have proved that it's possible. The women fighters' planning and performance skills are higher, quicker and more fundamental than the boys' skills, in the world of guidance as well."