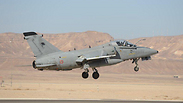 Previous Blue Flag exercise
Photo: Yair Sagie
Delegations from seven visiting air forces—Greece, Poland, Italy, USA and for the first time also India, France and Germany—on Sunday began Blue Flag 2017, the biggest ever version of the Blue Flag bi-annual joint military exercise hosted by Israel.

Close to 100 aircraft and more than a thousand support crew and pilots from seven different air forces will take part in the 11-day drill taking place in IAF's Ovda Base north of Eilat, while officers and attaches from nearly 40 other countries are expected to attend the exercise which the Israel Air Force has described as aiming to "simulate extreme combat scenarios and coalition flights as realistically as possible."

Dr. Eran Lerman of the Jerusalem Institute for Strategic Studies told Tazpit Press Service (TPS) that the exercise shows the importance and quality of the IAF and exposes it to the methods of other air forces, but added that its strategic importance was first and foremost in the symbolic participation of pilots from several countries with whom strategic, diplomatic and security relations are getting stronger and stronger.

"It is a very interesting list, which includes two countries in the Mediterranean with whom we have defense ties, Italy and Greece; of course the United States, Germany—which in itself is noteworthy, German fighter pilots coming to Israel to train; Poland and India. It is a list of countries that are key to Israel's long-term strategic perceptions and with whom Israel is deepening its ties on a broad spectrum of issues, not just defense ties but also economic, technological and diplomatic ties. The exercise emphasizes that Israel's strategic horizons are broadening," Lerman said.

Previous Blue Flag aerial exercise, 2015 (צילום: חיל האוויר)

Lt. Col. Nadav, Commander of the 133rd Squadron ("Knights of the Twin Tail"), which operates "Falcon" (F-15) fighter jets and is leading the exercise, described it as a "significant milestone in the relationship between the IAF and international air forces."

"This exercise will allow us to continue cooperating with these forces in the future as well," he told the IAF website.

Lt. Col. Guy, Head of the IAF's Training Branch, said that besides the tactical advantage gained by training with hundreds of international aircrew members, aircraft and weapon systems, the IAF will also gain a strategic advantage.

"The IAF has two main goals in the exercise," he said, "the first is to improve the operational readiness of all air forces involved via a quality mutual training experience, while also creating fertile ground for mutual learning. The second is to show the world that the IAF is an advanced, strong and leading force and improve Israel's international status as a result."

India, which is participating in a military exercise in Israel exercise for the first time on the heels of Prime Minister Narendra Modi's recent visit, dispatched a C-130J 'Super Hercules' aircraft, along with a 45-member contingent, including Garud commandos.

"This is the first time the Indian Air Force is training with the Israeli Air Force in a multilateral exercise setting," the Indian Defense Ministry said in a statement. "Exercise Blue Flag gives us the opportunity to share and learn best practices with some of the best professionals from other air forces."

TPS contributed to this article.