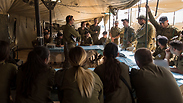 Soldiers briefed ahead of the drill
Photo: IDF
The IDF is gearing up to hold its largest military drill in nearly 20 years—a combined arms exercise along its border with Lebanon—at a time of rising tensions with Iran and Hezbollah.

A military official said Monday that the joint exercise, which will begin Tuesday and involve thousands of ground, sea and air force vehicles and personnel, will prepare soldiers for "preserving the current stability in the northern sector."

The official, who spoke on condition of anonymity in line with IDF regulations, said the drill will run through for 11 days, from Sept. 4th to Sept. 14th.

Among other systems of advaned weaponry, the exercise will incorporate Israel's multi-layered missile defense systems.

Similar to other major IDF exercises in recent years, this imaginary incident also begins with an offensive initiated by the enemy—Hezbollah—against the Galilee Division.

The IDF will respond to the "attack" in three stages: defense measures over the first few days, including counter-attacks and the deployment of defense forces akin to an air strike; an offensive attack as a second stage, with extensive ground maneuvers; and a change of mission statement as the third and last stage, in an aim to push enemy forces back into Lebanon.

"Hezbollah's initial attack" will be expressed as a simulated invasion of dozens of IDF fighters into Israeli territory and infiltration into one of the border communities. Home Front Command forces will practice the evacuation of civilians from threatened communities, as soldiers act the part of civilians in distress.

The southern Galilee will serve as southern Lebanon during the days of the drill, from Route 85 southward.

The IDF emphasized that the exercise was planned for about a year following a directive given by Chief of Staff Gadi Eizenkot when he took office in 2015, regardless of Iran's attempts to establish itself in Syria.

Israel has voiced growing concerns about Iran's buildup in neighboring Syria and Hezbollah's alleged stockpiling of weapons in southern Lebanon.