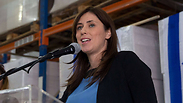 Deputy Foreign Minister Tzipi Hotovely
Photo: AFP
The hypocrisy of canceling Hotovely's Princeton talk
Op-ed: JVP, the same Jewish organization that tried to cancel Deputy Foreign Minister Tzipi Hotovely's speech at New York University, recently hosted Palestinian terrorist Rasmea Odeh, who has called for Israel's destruction. But when it comes to right-wing speakers, silencing is apparently okay.
More and more speeches by right-wing speakers at US campuses are being canceled. I don't usually share their views, but how is this silencing okay?

Last week, it happened to Deputy Foreign Minister Tzipi Hotovely, who was scheduled to give a speech at Princeton University's Center for Jewish Life, which is affiliated with the Hillel network of Jewish organizations. I spoke there myself earlier this year.

A Jewish group called Alliance of Jewish Progressives (AJP) organized a petition accusing Hotovely of "stating her opposition to a Palestinian state" and "repeatedly making racist statements." The Hillel people panicked and canceled the speech, which was eventually delivered at the Chabad center in Princeton. Attendance was impressive, perhaps in protest of the silencing. Hillel International President Eric Fingerhut soon came to his senses and issued an apology to Hotovely.

I swear that my political opinions on the settlements are the exact opposite of Hotovely's opinions, but I haven't found a hint of racism in her comments. Hotovely issued a statement claiming that "there is a liberal dictatorship ruling here, which prevents American students from hearing a representative of the Israeli government … Instead of giving a young American a chance to hear a variety of opinions, a narrow mindset prevents him from doing so."

Another attempt was made to cancel Hotovely's speech at Columbia University, which was held as planned early last week. The Jewish Voice for Peace (JVP) organization tried to prevent Hotovely's speech at New York University, arguing that the deputy foreign minister is denying the Palestinians' right to an independent state. Hotovely, by the way, is in favor of an annexation that will lead to the bestowment of citizenship.

That's interesting. The Kurds' right to an independent state has supporters and opponents. Similar disputes are taking place concerning Tibet and Western Sahara, as well as Catalonia these days. Are political opinions a reason for boycotting someone?

Last spring, the same organization trying to silence Hotovely, JVP, hosted Rasmea Odeh, a Palestinian terrorist who is about to be deported from the United states after entering the country deceitfully. Odeh is calling for Israel's destruction just like the BDS leaders are denying the state's right to exist. Has it ever crossed these activists' mind that there's something wrong with their rules of ethics? Don't make them laugh. Anti-Semites have no rules of ethics, even if they're Jewish.