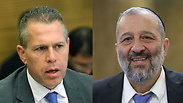 Erdan (L) and Deri
Photo: Alex Kolomoisky
Interior Minister Aryeh Deri announced on Monday that he would adopt the recommendation of Minister for strategic affairs and public security Gilad Erdan, thereby refusing to allow a delegation of European parliamentarians and French mayors to visit Israel and the Palestinian Authority, due to their promotion of anti-Israeli BDS movement and intent to visit convicted Palestinian terrorist Marwan Barghouti.

The delegation, which includes 20 participants, including French parliamentarians, European Parliamentarians and mayors, is scheduled to visit Israel and the Palestinian Authority on November 19-23.


The delegation announced that the purpose of the official visit was to meet with Barghouti in Hadarim Prison, in a show of support of him and other Palestinian security prisoners.

After examining Erdan's recommendation and the materials concerning the delegation, Deri announced that the delegation members would be refused entry upon their arrival.

The announcement was made in advance, so as to allow members of the delegation to be informed of the matter and not fly at all.

"This is not the first time that I have prevented the entry of BDS activists, but this time it is a delegation of senior European officials who are coming to act against Israel, so the subject has a different aspect to it," Deri stated. "After examining their backgrounds and the circumstances of their visit, I decided that the delegation did not have a place in Israel."

"We will not allow the entry of those who actively call to attack the State of Israel, especially in light of their request to meet and bolster the murderer Barghouti and thus support terrorism," Erdan added. "These are senior politicians who consistently support and even promote boycotting Israel."