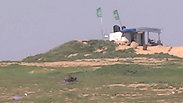 Gaza border
Photo: Roee Idan
Islamic Jihad reportedly following Israelis, raises alertness to highest level
Following IDF's blast of its tunnel infiltrating Israel, Arab newspaper Al-Hayat claims terror group is upping its alertness and trailing Israeli citizens living near Gaza border; IDF prepares in advance to Islamic Jihad retaliation by setting up Iron Dome defense system.
In the latest move in the escalation between Iran-backed terror group Palestinian Islamic Jihad (PIJ ) and Israel, the London-based Arab newspaper Al-Hayat reported Tuesday that is the organization has upped its readiness to its highest level, and that it is closely monitoring Israeli citizens living in Gaza-bordering communities. This after the IDF blasted an Islamic Jihad terror tunnel from Gaza into Israel in late October, killing at least 12 of the group's members.

Sources told Al-Hayat on that Islamic Jihad's military wing is following Israeli citizens' movements and whereabouts using binoculars and surveillance equipment.

The terror group's alert has also risen to its highest level, as the IDF carries out its own drill in the area surrounding Gaza. Islamic Jihad claimed their raised level of readiness was "in self defense and to deter Israel," out of concern that the IDF was planning a sneak attack in Gaza.

Iron Dome rolled out (צילום: מוטי קמחי)

The IDF had already upped its alertness level on Monday, after already issuing a statement Sunday, stating that Islamic Jihad is planning to retaliate over the IDF's blasting of the group's terror tunnel. As part of this move, the IDF rolled out the Iron Dome defense system for the center of Israel.



Two weeks after Israel blew up the tunnel, which had penetrated into its territory from Gaza, Israel promised on Sunday to respond to any revenge attack with "power and determination."

Earlier the same day, a senior Islamic Jihad official in Gaza, Khaled al-Batash, said his terror organization will have no other choice to "punish" Israel in retaliation for killing its members, a threat confirmed by the IDF.

"Our message to Israel: Your hands, drenched in the blood of our children, will not stop killing until they are cut off or expelled from our land and country. The enemy's terror and threats do not frighten us and will not deter our leadership from the path of Jihad—the principle of our defense and resistance," PIJ concluded its warning to Israel.

Nevertheless, work on the underground wall along the Gaza border continued on Tuesday, albeit not at full force, as building teams took extra precautions against sniper and rocket fire.




Following the tunnel blast, Hamas speaker Fawzi Barhoum also stated that "the courageous resistance will always continue to be ready to carry out its duty—to defend our nation and break the prestige of the occupation."

Israel's security establishment responded by publishing a warning message to Hamas over the weekend. "We are aware of the Palestinian Islamic Jihad's plot that is being formed against Israel. It is playing with fire. We will respond with force against Hamas as well," said Coordinator of Government Activities in the Territories Maj.-Gen. Yoav Mordechai.




"It should be clear: Any response by Islamic Jihad, whatever it may be, will be responded to by Israel with power and determination, not only against Islamic Jihad but also against Hamas. We advise the Islamic Jihad leadership in Damascus—Ramadan Shalah and Ziad Nakhaleh—get your hands around this quickly because you are the ones who will be held responsible," Mordechai continued.

PIJ commented Sunday on the veiled threat by Israel towards the organization's leadership. "We will not weaken the leadership of our people and of our land. The threat by the enemy to harm the leadership is on the border of a declaration of war and we will deal with them," PIJ said in its statement.

"These threats show the real intentions of the Zionists. We have a right to respond to any aggression and, therefore, have a right to respond to criminal aggressions against the resistance tunnels that caused the death of 12 fighters from the military wing of Hamas and the (Islamic) Jihad," the statement read before issuing a stern warning.