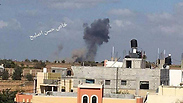 Smoke plume near the Gaza Strip
IDF confirms blowing up terrorist tunnel running within Israel
After Palestinians initially report smoke plume from explosions rising near Israeli border with Gaza, IDF confirms blast felt in communities surrounding strip is result of its blowing up terrorist tunnel found within Israel; Def. Min. Lieberman: tunnel 'proves that Gaza a terrorist kingdom.'
The IDF Spokesperson's Unit confirmed on Monday that the Southern Command carried out a scheduled detonation aimed at destroying a new terrorist tunnel which was in the process of being built. The tunnel was located near the border fence with Gaza, near the South Gaza city of Khan Yunis.

IDF Spokesperson, Brig. Gen. Ronen Manelis stated that "we now have possession of the tunnel, and it no longer constitutes a threat.

"This is a clear violation of Israeli sovereignty that we will not allow. We had been monitoring this tunnel for a while. This is an operational success of abilities we started using following (military Operation—ed) Protective Edge.

Footage of the explosion's aftermath

"We're ready for any event in protection and the Southern Command, but we have no intention of escalating matters," Manelis added, stressing the the tunnel had yet to become operational when the IDF blew it up.

Palestinian sources initially claimed that the Israeli Air Force had attacked in the Gaza Strip, showing photos taken there to show a mushroom cloud rising above the Israeli border with Gaza.

Following the tunnel blast, Prime Minister Benjamin Netanyahu laid responsibility for the tunnel squarely on Hamas, adding, "Any government's first responsibiltiy is to protect its citizens. Whoever tries to hurt us, we hurt them."

In a press conference of his own following the IDF attack, Defense Minister Avigdor Lieberman congratulated the IDF and Southern Command "for a perfect execution of the mission, which is also the result of a high operations level and of a significant technological breakthrough that allows us to best handle the tunnels threat.

"We will not tolerate a violation of Israel's sovereignty," said Lieberman. "I want to stress that the monitored detonation was carried out in our territory.

Lieberman also stated that the tunnel that "it was a blatant violation of sovereignty and all acceptable rules between societies, countries and organizations that respect themselves." He added that the recently built tunnel "proves that despite the Palestinian reconciliation, the Gaza Strip remains a kingdom of terrorism. As far as we're concerned, the responsibility (for the tunnel—ed) is without a doubt that of Hamas, which rules Gaza."

Lieberman reiterated Manelis's statement, saying that "there is no desire for an escalation." He also clarified that "at no point were the residents surrounding Gaza in danger from that terrorist tunnel. We caught it in time and did what we had to do."




"At first we thought it was missile fire," said a resident of the Eshkol Regional Council following the blast. "There were some very loud explosions. I went into the mamad of my own volition. The walls shook. We later received a message saying it wasn't missiles. It's still unclear exactly what happened."