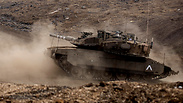 IDF tank near Syrian border
Photo: EPA
IDF fires 'warning shot' after Syrian border construction
IDF force fires warning shots at a Syrian army post near the village of Hader in the buffer zone in the northern Golan Heights following a fortification operation carried out by the Syrian army in violation of the cease-fire agreement that prohibits military activity in the buffer zone.
The IDF says it has fired a tank shell near the Druze village of Hader in Syria Saturday as a "warning shot" after the Syrian military conducted construction along their border.

The IDF says Syria violated the 1974 cease-fire agreement on the Golan Heights by using heavy tools to fortify a military post in the demilitarized zone between the countries.

In response, the IDF says it complained to the United Nations peacekeeper force station on the Golan and fired a tank shell as a warning.

The incident comes as Israel has voiced concerned about the growing presence of Iran and its proxy Hezbollah in Syria as that country appears to be transitioning into a post-civil war reality, in which Israel says it will defend its interests.

It also follows the rare suicide attack that took place two weeks ago in the village of Hader, in which Nine Syrian residents were killed and 23 were wounded after terrorist group Al-Nusra Front detonated a car bomb inside the village.

In a highly unusual turn of events, the IDF issued a statement in light of the attack, saying it was willing to aid the Druze residents of Hader, who are currently fighting to prevent the Assad's Syrian army from overtaking the South Syria village.

"Over the past six years, there has been internal fighting in Syria. Israel's policy is very clear—we do not interfere in the fighting or assist either side, while offering humanitarian and medical aid to local residents of the Syrian Golan Heights to ease their suffering. We do not and will not assist terrorism organizations in the Golan in any way," said IDF Arabic Spokesperson, Maj. Avichai Adraee, in a Facebook post after the attack.

"In the last few hours, there has been substantial fighting in the area of the village of Hader. Despite lies spread by parties with a personal stake in the matter, Israel is not and will not assist any terrorist group in hurting the village's residents. On the contrary—we will continue to stand by the Druze living in the (Syrian—ed) Golan Heights," Adraee added.

IDF Chief of Staff Lt. Gen. Gadi Eisenkot said earlier this week that the IDF had deployed tanks on the slopes of Mount Hermon to fulfill this intention of defending the settlement. The same Israeli armored force was the one to fire at the outpost the Syrian army was trying to recapture in the strip adjacent to the border fence—through which the car carrying an explosive charge into Hader infiltrated the village earlier this month.

Roi Kais and Yoav Zitun contributed to this article.