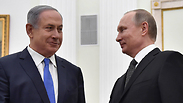 PM Netanyahu (L) and President Putin
Photo: AFP
Israel reiterates position on Syria following Lavrov comments
PM Netanyahu reiterates Israeli position on preserving its own interests in Syria following statements by Russian FM that Iranian presence in country is 'legitimate', Shiite militias will not be forced to withdraw from border; statement construed to be made due to internal political considerations, posturing with US.
Israel initially kept mum following Russian Foreign Minister Sergei Lavrov's comments Tuesday that Iran's presence in Syria was "legitimate" and that Moscow would not force Shiite militias to withdraw from border, but eventually the Prime Minister's Office decided to press Israel's position that it has and will continue to protecting its own interests.

"Israel has already clarified its positions to its friends in Moscow. Prime Minister Benjamin Netanyahu told President Vladimir Putin that in any eventuality, Israel will continue taking care of its own security needs," a statement by the Prime Minister's Office said.

The Israeli government is said to have viewed Lavrov's statements with mixed feelings. The statement, Israel presumes, was meant to allay Iranian fears, as the Islamic republic was less than thrilled with reports of a Trump-Putin agreement to withdraw foreign forces in Syria and create a buffer zone between rebels and President Bashar Assad's forces and Shiite militias.

What the buffer zone would have meant was Iranian forces and Shiite militias would have been kept 5-7 kilometers away from the Israeli border. Israel's mixed feelings stem from the fact that on the one hand, the new iteration is better than the previous American-Russian agreement, but on the other it's not enough for Israel, especially considering the Iranian base in Syria is only 60 kilometers from the border and will remain in place.

"We are not bound by this agreement. Israel will look after its own interests and maintain its own red lines," an Israeli source clarified.

Israel also construed Lavrov's statement as one made of internal Russian political considerations and maneuvering opposite the United States. A senior Israeli official explained Netanyahu had to clarify he was reserving the right to act in Israel's best interests in Syria.

"It could effectively lead to brushes with both the Iranians and Hezbollah, and later on to possible clashes with Russia as well," the official added, saying Israel was doing its best to illustrate to Russia how an Iranian military presence in Syria will invariably destabilize the situation in the region, both as far as Israel is concerned but also with the region's Sunni majority. Israel is also of the opinion that Iranian soldiers in Syria run opposite Russia's own interests in that country.
The Americans are coming
An American delegation of defense officials arrived to Israel Wednesday for talks at the National Security Council concerning the Iranian nuclear deal and Iranian presence in Syria, among other things.

The delegation included senior officials from the US iteration of the National Security Council and other American agencies. While the delegation is visiting Israel, newly-appointed National Security Advisor Meir Ben-Shabbat has been visiting Washington, where he will meet his US counterpart General H. R. McMaster.

"Our strategic relationship with Israel is of paramount importance, and thusly American delegations visit Israel regularly for coordination on various topics. During the current visit, official American representatives will meet their Israeli counterparts to discuss regional security matters, including Syria," said sources in the American embassy in Israel.