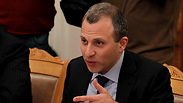 Lebanese Foreign Minister Gebran Bassil
Photo: EPA
Lebanese FM: Israel shouldn't start a war against us, we'll surely win
'We should restrain Israel from starting a war exactly because Lebanon is sure to win it,' Gebran Bassil tells RT in interview, adding his country was capable of countering 'any threat' and warning consequences from attacking Beirut could reverberate as far as Europe.
Lebanese Foreign Minister Gebran Bassil warned Israel on Saturday not to start a war against his country "as we will surely win."

"We should not be provoking Israel into a war simply because it is likely to lose it. We should restrain Israel from starting a war exactly because Lebanon is sure to win it," Bassil told Russian state TV channel RT.

Hassan Nasrallah, the leader of the Lebanese terror organization Hezbollah, which also holds political power in the country, has accused Saudi Arabia of pushing Israel to start a war against Lebanon. I speak here about facts, not analysis. Saudi Arabia is ready to pay tens of billions of dollars to Israel for that," Nasrallah alleged.

Bassil claimed Lebanon has capabilities to deal with "any threat," warning that any country fighting against Beirut would suffer consequences that could reach as far as Europe.

"Even if Lebanon is a likely winner in a war, it does not mean it wants to fight," Bassil said, adding he did not think the "anti-Lebanon campaign" being waged in the Middle East would escalate into a full-blown armed conflict.

"I doubt that it will come to it because the party that starts such a war will have to deal with consequences," he noted.

Bassil was in Moscow to meet with his Russian counterpart Sergey Lavrov.

Speaking about the current crisis with Saudi Arabia following the surprise resignation announcement of Lebanon's Prime Minister Saad Hariri from Riyadh, the Lebanese foreign minister noted this was a "good example that virtually anyone can start a war against us."

"We are ready to act in case of such developments, but we are trying to do everything we can to prevent this from happening and to maintain a good relationship with Saudi Arabia," he added.

Bassil accused Israel and the US, among others, of interference. "Any country can take action against Hezbollah like the US does, even though the leader of Hezbollah has said repeatedly: 'If you want to fight us, you can fight us, but leave Lebanon alone. We don't want Lebanon to suffer because of us,'" he said.

"We think if they target us, they will punish all the people of Lebanon, and those who dare do this will also face consequences. There will be consequences for the whole region, for Europe," he argued.