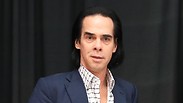 Nice Cave: I'm playing Israel because of BDS
The Australian singer admits that 'if you do play Israel, you have to go through a sort of public humiliation from Roger Waters and Co.'; nevertheless, he says that despite the backlash, he decided to play Israel 'because it suddenly became very important to me to make a stand against those people who are trying to censor musicians.'
Australian musician Nick Cave, who will be performing two concerts in Tel Aviv this week with his band the Bad Seeds, said Sunday he decided to return to Israel after two years despite and to spite the BDS Movement.
"If you play Israel, you have to go through a sort of public humiliation from Roger Waters and Co. and no one wants to be publicly shamed," Cave said at a press conference ahead of the two concerts on Sunday and Monday. "It's the thing we fear the most, in a way, to be publicly humiliated. So it becomes just easier to forget about Israel. I think that to my shame, I did that for maybe twenty years—Israel would come up and I would go, 'Look, let's not do it, alright?'"
Cave during his press conference (צילום: משי בן עמי)
Cave explained he truly decided on his position regarding Israel after being contacted by English musician BDS supporter, Brian Eno. "Eventually I got a letter three years ago from Brian Eno, who asked me to sign a list of people called 'Artists againt,' no, 'Artists for Palestine.' And he sent me that list, and I just didn't—on a very intuitive level—did not want to sign that list. There was something that stunk about that list. And so I wrote back and said, 'I don't like lists, I don't want to sign your list,'" he said.
"And then it occurred to me that I'm not signing the list, but I'm also not playing Israel, and that to me felt cowardly. So after a lot of thought, a lot of consideration of the whole thing, I rang up my people and said, 'We're doing a European tour—add Israel,' because it suddenly became very important to me to make a stand against those people who are trying to shut down musicians, to bully musicians, to censor musicians and to silence musicians," Cave explained.
"At the end of the day, there are two reasons why I'm here: one is that I love Israel and I love Israeli people, and two is to make a principled stand against anyone who tries to censor and silence musicians. So really, you could say, in a way, that the BDS made me play Israel."
Cave also talked about his first experiences with Israel, during his band's first two shows in the country. "We came to Israel 20 years ago or so, did a couple tours of Israel. I felt a huge connection with Israel. Not just, people talk of loving a country, but I just felt on some sort of level a connection that couldn't actually really describe," he said.
However, he said, the band's next record, The Boatman's Call, did not sell very well in Israel, and leading the band not to include the Jewish state it in their next few tours.
"Israel isn't on the circuit, I don't know if you know that," Cave explained. "When you think of doing a European tour, no one really thinks of doing Israel. In fact, it's a very difficult thing to play Israel, on a logistical point of view: it's expensive, it's time-consuming, and it's a lot easier just to not play Israel."