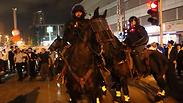 Police cavalry at Haredi protest
Photo: Motti Kimchi
Dozens of Haredim were arrested Sunday evening when hundreds of demonstrators from the radical fringe Jerusalem Faction blocked several main roads and highways in Jerusalem and Bnei Brak in protest against the draft law, following the continued detention of several defecting yeshiva students.

By Sunday night, at least 28 demonstrators had been arrested in Bnei Brak and ten in Jerusalem.

Followign refusal of the protesters to obey the police's instructions to move on, riot police cavalry had to forcefully disperse the protest in Bnei Brak.

The protest in Bnei Brak (צילום: אסף מגל)

Aside from calling policemen who came to disperse them "Nazis"—a common theme of the riots—they shouted religious proverbs calling the IDF an enemy of the Jews and disparaging the draft law: "Take counsel together, and it shall be brought to naught; speak the word, and it shall not stand; for God is with us."

The biblical proverb expresses confidence that all the plans of enemies of the Jews will amount to nothing because God is at their side.

The Jerusalem Faction, headed by Rabbi Shmuel Auerbach, hoped that the calm in recent weeks would lead to the speedy release of the detained youths, who refused to report to the conscription offices and even to arrange for the postponement of their service as Torah scholars.

The protest in Jerusalem (צילום: ישי פורת)

But the military court in Jaffa sentenced them to relatively long prison terms Sunday, and Auerbach decided to call on his followers to flow into the streets and block roads in protest.

Recently, there has been a lull in the ultra-Orthodox's demonstrations, as yeshiva students have been on holiday, given between study periods in the yeshiva. Their ability to stage mass protests therefore, was signifcantly diminished.

While speakers at the protests insisted that their struggle was alive and kicking and declared every morning that they were ready to sacrifice their lives for the release of the yeshiva students, some of the most prominent activists in the field, those who draw thousands out into the streets, chose instead to underground.

The result was that Rabbi Auerbach's belligerent statements continued, but there was no one to translate them into reality.