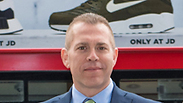 Gilad Erdan
Photo: Shahar Azran
Erdan criticizes police examination of Rivlin incitement
While joining the chorus of condemnation of incitement against the president, the public security minister says no point in investigating photo of Rivlin in kaffiyah: 'I have no doubt the State Attorney's Office will determine it's not a criminal offense.'
Public Security Minister Gilad Erdan joined a chorus of condemnations on Monday of the incitement against President Reuven Rivlin in the wake of his decision not to pardon Elor Azaria, but at the same time criticized police decision to look into the posting of a photo of the president wearing a kaffiyah.

"There's no room for harsh words and attacks against the president. This is his authority and his responsibility. It is allowed to disagree with his position, but I condemn all of the mudslinging and tongue-lashing," Erdan wrote on social media.

"However, there's room to wonder whether there is need for a police examination of the disgusting photos being disseminated on social media, as I have no doubt the State Attorney's Office will determine this is not a criminal offense. It is disgusting, but not criminal," he added.

Rivlin's announcement that he decided to reject Azaria's request for pardon garnered hundreds of comments on his official Facebook account, with some inciting against the president.

Some wished death upon him or cursed him, calling Rivlin a "son of a b****," "piece of trash," and "sick."

Ministers and MKs from both sides of the aisle came out in support of Rivlin.

"We need to be careful. The discourse of incitement against the president must stop," Social Equality Minister Gila Gamliel told Ynet.

Commenting on the photo of Rivlin wearing a kaffiyah, Gamliel said, "We've been here before, it could end badly."

Members of her own Likud party—including Culture and Sports Minister Miri Regev, MK David Bitan and MK Oren Hazan—harshly criticized Rivlin for his decision.

"At the moment I'm not looking for anyone to blame," Gamliel said. "I just want to raise the cry of 'no more to violence and incitement.' I'm not trying to be an educator or to provide interpretation to others' comments. I call on everyone, both in political discourse and among the general public, to respect the rules of democracy. And even when we disagree, to develop tolerance towards different discourse."

Transportation Minister Yisrael Katz, also of the Likud Party, slammed the incitement against the president as well.

"I believe Elor Azaria should have been allowed to return home and should've been given a pardon. The president thought and decided differently under his authority and based on his judgment," Katz wrote on his Twitter account. "In a democracy, it is allowed to disagree and criticize, but the personal attacks and the grave incitement against the president are a disgrace and constitute the crossing of a red line. They must be stopped immediately."

In the opposition, Yesh Atid leader Yair Lapid called on Prime Minister Benjamin Netanyahu to come out in Rivlin's defense and rebuke the ministers who attacked the president. "The prime minister's silence is strange at best and dangerous at worst," he said.

"The photo of President Rivlin wearing a kaffiyah was not created by those who don't remember the photo of (slain PM) Rabin with a kaffiayh, but by those who do remember. (Not condemning it) is akin to giving permission to kill," Lapid continued.

Lapid slammed "the government officials who are part of the wild incitement and who legitimize it—yes, Miri Regev, I mean you—and the public that lost control. This is a complete loss of stateliness."