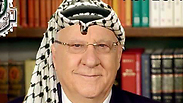 Incitement against President Rivlin
Police launched an investigation on Monday morning into social media posts inciting against President Reuven Rivlin after he decided not to pardon former IDF soldier Elor Azaria, who was imprisoned for shooting dead a neutralized terrorist.

Rivlin's announcement that he decided to reject Azaria's request for pardon garnered hundreds of comments on his official Facebook account, with some inciting against the president.

One person posted a photo of Rivlin wearing a kaffiyah, while others posted photos of the president with the Palestinian flag or accompanied by the writing "You are not my president."

Some wished death upon him or cursed him, calling Rivlin a "son of a b****," "piece of trash," and "sick."

"You're garbage waste. Take your tongue out of the asses of the heads of the Israel Destruction Fund and go to hell, damned Nazi," wrote Michael.

"You disgust me, you're not my president. When I see your photo, I feel like throwing up," wrote Dror.

Avi dubbed Rivlin "a president of Arabs and leftists," while David encouraged the president "to eat kanafeh and baklavas at the terrorist's house," referring to Abed al Fatah al-Sharif, the seriously wounded and neutralized terrorist that Azaria shot dead in Hebron.

Some were outraged by the fact Rivlin, who is known for his right-wing views, rejected Azaria's pardon request.

"You got to where you did thanks to people like Elor Azaria and his parents," Ohad wrote.

"I thought you'd be a great president who erases the stain of your predecessor. You erased the stain and made it far worse. Peres is not of our tribe, while you are supposed to be one of us," one woman wrote. "Oh how the mighty fall. I'm ashamed of my president."

Guy offered, "You've shed your skin like a snake, you're a filthy traitor."

Many called on Rivlin to resign, with one woman writing "I wish you'd be thrown out of your job."

Tamir added, "I pray that when you go, the country will pull itself together, close this whorehouse called the President's Residence and invest the money where it's truly needed."

"Give back the keys and resign. No one asked us if we wanted to elect you. We don't want you, a president reminiscent of Abu goddamn Mazen," wrote Efraim, referring to Palestinian President Mahmoud Abbas.

Azaria was convicted of manslaughter earlier this year and imprisoned for 18 months, a sentence he began serving in August. IDF Chief of Staff Gadi Eisenkot accepted his request for leniency and shortened the sentence by four months.

President Rivlin, however, decided to reject Azaria's request for clemency, saying that to grant him early release would have negative implications for both the army and the state.

"The President concluded that taking all considerations into account ... an additional lightening of your sentence would harm the resilience to the Israel Defense Forces and the State of Israel," Rivlin wrote in a letter to Azaria explaining his decision.

"The values of the Israel Defense Forces, and among them the Purity of Arms, are the core foundation of the strength of the Israel Defense Forces, and have always stood strong for us in the just struggle for our right to a safe, national home, and in the building a robust society," the letter continued.

Azaria's family responded to Rivlin's decision "with disappointment and regret."

"The family is angry about the fact that Elor's father, Charlie, heard about the decision through the media while he was waiting in hospital to undergo an MRI scan due to a deterioration in his medical state," the family vented in a statement.

Even after being denied pardon, Azaria could still be released early by submitting requests to two committees in the IDF to hold "another examination of the punishment."