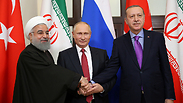 L-R: Iran's Rouhani, Russia' Putin and Turkey's Erdoğan
Photo: Reuters
Putin holds 'victory summit' in Russia with Erdoğan, Rouhani
Russia's Putin meets Iran's Rouhani, Turkey's Erdoğan in Sochi to discuss Syria's postwar prospects; 'We've reached new phase,' says Putin, while underlining need for compromises, including on Assad's part; Putin and PM Netanyahu spoke about Syria on Tuesday, with Netanyahu reiterting the dangers of having Iran gain a foothold in Syria.
Russian President Vladimir Putin met Iranian President Hassan Rouhani and Turkish President Recep Tayyip Erdoğan at his Black Sea resort of Sochi Wednesday to discuss post-Syria and Iraq after the defeat of the Islamic State and Syrian President Bashar al-Assad's surprise visit to the same resort Monday. Putin said there was a "real chance" to end the years' long civil that ravaged the country, but that it would take compromises, including on Assad's part.

Putin told Rouhani and Erdoğan that the Islamic State's conquest of Syria was thwarted thanks to the countries they lead and noted their "special role" in terminating hostilities in Syria. Putin added that "Syria's collapse was prevented" thanks to the countries tri-lateral efforts. Syria's postwar political settlement will be concluded during Geneva peace talks, the Russian president also said.

Putin then told his Syrian and Turkish counterparts that they have now reached a "new phase" allowing for a political settlement of the conflict. The Russian president revealed he had offered his fellow leaders the "parameters of a forum for dialogue on the Syrian issue" and made it clear to all parties that the eventual peace agreement will necessitate compromises on all sides, including the Syrian government.

Footage of the trilateral Russian, Iranian, Turkish summit (Anadolu Agency)

President Rouhani replied that the time was right for a political settlement of the conflict and that he was pleased that Russia, Turkey and Iran were collaborating so closely on the issue of Syrian peace, but nevertheless emphasized that "foreign intervention in Syria must cease. Any (foreign) military presence in the country is only legitimate if it enters at the behest of the Syrian government."

Shortly after the meeting, the Saudi al-Arabiya network reported that the draft of a final statement by a Syrian opposition meeting in Riyadh called for the departure of President Bashar al-Assad at the beginning of any transition.

During Assad's unannounced visit with Putin, the two conferred for four hours, in what was the first meeting between the two leaders since October 2015.

The Kremlin and Assad's office published a joint announcement regarding the latter's visit. Putin congratulated Assad on his "accomplishments" on the war on terror and stated that Syria was near to achieving its goal in combating terrorism, the Kremlin said. The Syrian president then thanked Putin for his support, both militarily and politically.

The Kremlin added Putin also intends to speak with other leaders about the Syrian conflict. These have already included Prime Minister Benjamin Netanyahu (with whom he spoke on Tuesday for half an hour), US President Donald Trump (with whom he spoke for an hour on Tuesday), and Saudi King Salman bin Abdulaziz Al Saud.

The Prime Minister's Office said that the phone conversation dealt with Syria and Iran's attempts to establish itself in Syrian territory, with the PMO stating that "Prime Minister Netanyahu insisted on Israel's security principles."

A special Russian envoy will also be a spectator during the planned Syrian summit meeting with opposition factions, to be held in Riyadh this week.

Assad, for his part, said Damascus was interested in moving forward with a political process after the "victory over the terrorists."

"We count on the support of Russia to ensure the non-interference of outside players in the political process," Assad added, speaking through an interpreter, perhaps alluding to Israel. "We are interested in dialogue with anyone interested in a political solution."