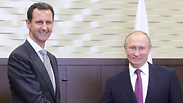 Assad (L) met Putin in Sochi
Assad meets Putin in surprise visit to Russia
Syrian president leaves his country for first time in 2 years to meet with Russian patron; Putin congratulates Assad on 'accomplishments' in war on terror, says Syria nearing completion of mission; Assad says now is time to move forward to reach political settlement.
Syrian President Bashar al-Assad met his Russian counterpart Vladimir Putin—long considered to be the de facto ruler of Syria and credited with shoring up Assad's crumbling regime in the face of a years' long civil war—in the Russian Black Sea resort of Sochi Monday.

This is the first known meeting between the two since Assad last left his country in October 2015, also to meet with his benefactor. Assad's visit to Sochi lasted four hours, according to Putin Press Secretary Dmitry Peskov.

The Kremlin and Assad's office published a joint announcement regarding the latter's visit, which was held covertly. Putin congratulated Assad on his "accomplishments" on the war on terror and stated that Syria was near to achieving its goal in combating terrorism, the Kremlin said. The Syrian president then thanked Putin for his support, both militarily and politically.

Assad and Putin's meeting in Sochi Monday

The Kremlin further stated the Russian president underlined to Assad a political solution to the Syrian conflict was key after military operations conclude successfully.

The meeting with Assad took place before the expected visit of Turkish President Recep Tayyip Erdoğan and Iranian President Hassan Rouhani later this week, the Kremlin added.

Putin also intends to speak with President Donald Trump, Qatari Emir Tamim bin Hamad Al Thani and other Mid-East leaders about the Syrian conflict.

A special Russian envoy will also be a spectator during the planned Syrian summit meeting with opposition factions, to be held in Riyadh this week.

Assad, for his part, said Damascus was interested in moving forward with a political process after the "victory over the terrorists."

"We count on the support of Russia to ensure the non-interference of outside players in the political process," Assad added, speaking through an interpreter, perhaps alluding to Israel. "We are interested in dialogue with anyone interested in a political solution."

The Putin-Assad meeting took place three months after Prime Minister Benjamin Netanyahu conferred with Putin in the same Sochi resort. Their meeting took place ahead of the signing of a joint American-Russian-Jordanian agreement that included a Russian obligation to remove Iranian forces, Hezbollah and other Shiite militias from the Israeli border in the Golan Heights.

The agreement was considered unsatisfactory in Israel, however, since Iranian forces could still stay 5-7km from the border. In commenting on the agreement, Prime Minister Netanyahu said, "I have informed our friends, firstly in Washington and also our friends in Moscow, that Israel will act in Syria, including in southern Syria, according to our understanding and according to our security needs. That has been and will continue to be the case."

Reuters contributed to this report.