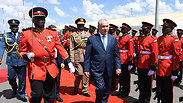 Netanyahu arrives in Nairobi
Photo: Haim Tzach, GPO
Netanyahu holds marathon meetings in Kenya
PM Netanyahu holds series of bilateral meetings with African leaders in Kenya as President Kenyatta inaugurated; speaking as only foreign leader at celebratory lunch, Netanyahu says: 'We want to work with you and each of your countries ... We believe in Africa.'
Prime Minister Benjamin Netanyahu conducted a one-day visit to Kenya on Tuesday, to take part in celebrations for the inauguration of Kenyan President Uhuru Kenyatta. This is Netanyahu's third trip to Africa in the past year.

Netanyahu took off to Kenya Tuesday morning and landed in the capital of Nairobi, where he was greeted by an honorary guard. He is due to return to Israel around 5am (technically Wednesday).

Netanyahu was the only western leader to take part in the celebrations, which included ten African leaders. Communications Minister Ayoob Kara joined him on the trip.

Despite original reports that he was planning to attend the inauguration itself, the Israeli premier only joined the celebrations amid security concerns that threatened to erupt during the ceremony.

Netanyahu lands in Nairobi (צילום: לע"מ)

After arriving in Nairobi, Netanyahu participated in a celebratory meal with the other leaders, during which he was seated next to Kenyatta on his big day.

Netanyahu was also the only foreign leader to be asked to speak at the lunch, during which he congratulated Kenyatta on the birth of his granddaughter and offered him a picture with a blessing for the newborn.




Netanyahu used the opportunity to conduct a series of diplomatic meetings with foreign leaders, including Rwandan President Paul Kagame, with whom Netanyahu is currently in negotiations to transfer over 10,000 illegal infiltrators to Rwanda, with Israel paying for each person that will be transferred to the African country.

During their meeting, Netanyahu announced that Israel will be opening an embassy in the country's capital of Kigali, "as part of deepening the cooperation between Israel and African countries."

The prime minister also met with the presidents of Gabon, Uganda, Tanzania, Zambia, South Sudan, Botswana and Namibia, as well as with the prime minister of Ethiopia.

During the meetings, Netanyahu discussed furthering cooperation in a variety of fields, including energy, agriculture, technology and security. The leaders reportedly thanked Israel for its help and asked for further assistance in matters of security, intelligence and agriculture.

"We want to work with you and each of your countries, to connect Africa to electricity," said Netanyahu during the celebratory lunch. "We believe in Africa. For each of your initiatives, there will be an initiative of ours to take advantage of the future and make life better and safer for your people."