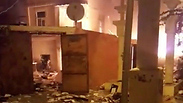 The scene of the explosion
Photo: Hila Shirazy/Reuters
While initial police evaluations concluded that Monday's explosion in a Jaffa building materials store was caused by a gas leak, investigators are now considering the possibility that it may have been an arson attack, according to a source on the investigative team.

"We don't know exactly what happened but something doesn't add up. Traces of 'other' materials that may have caused the explosion were found and sent to the lab," the source said.

"They aren't necessarily flammable materials from the store itself, which is why that angle is being looked into. which we are looking into it more deeply. It may end up being intentional arson," the source said.

Initial evaluations chalked the explosion, which claimed the lives of three people and wounded four, up to a cooking gas leak, which is said to have caused the blast that toppled the shop in the city's Yeffet Street.

The explosion also damaged several adjacent residential buildings.

The inquiry into the explosion has been handed over to a special investigative team in the Yiftach Sub-District's police. Police, sappers and crime scene investigators were active on the scene overnight Tuesday, collecting evidence and testimonies. Several suspects were detained for questioning.

Walid Kabub, the attorney of one of the suspects, who was released shortly after his arrest, said his client denies any allegations against him.

"My client is a businessman and son of a normative family. He laments the terrible disaster to strike his fellow residents. My client denies any relation to the regrettable incident and thanks the investigative team for seeing fit to release him without remand, as his account was examined and found to have no relation to the incident."

The victims of the explosion were later identified as Ali Abu Jamaa, 22, of Tayibe, Rimon Huri, 20, of Jaffa, and Mohammad Yassin of Tulkarem.

Jamaa and Huri, who worked in a restaurant in the city, were found dead in their beds behind the store, which collapsed from the explosion's impact. Firefighting teams announced Tuesday afternoon that search efforts were called off after determining that no more people were trapped.

The store was situated among residential buildings in Jaffa's Ajami neighborhood. Due to its storage of gas canisters, forces on-site ordered that the neighbors be vacated for fear they might explode.

Six fire crews, including firefighters from the Tel Aviv station and from the elite "Flame" unit, only used in special circumstances, were called to extinguish the flames.

A large contingent of Home Front Command's National Search and Rescue Unit also arrived on the scene, as well as dogs and their handlers from the elite Oketz unit.

George Abu, who lived nearby and whose home was damaged, recounted the events leading up to the explosion, clearly audible across Tel Aviv.

"I sat down to eat, went to grab a plate and the moment I stepped back into the living room I heard a boom. I thought it was an earthquake at first but then I heard a series of explosions. The entire home was torn up and I still feel unwell. I'm sick and my wife is on dialysis. I've never felt anything like it," he said.